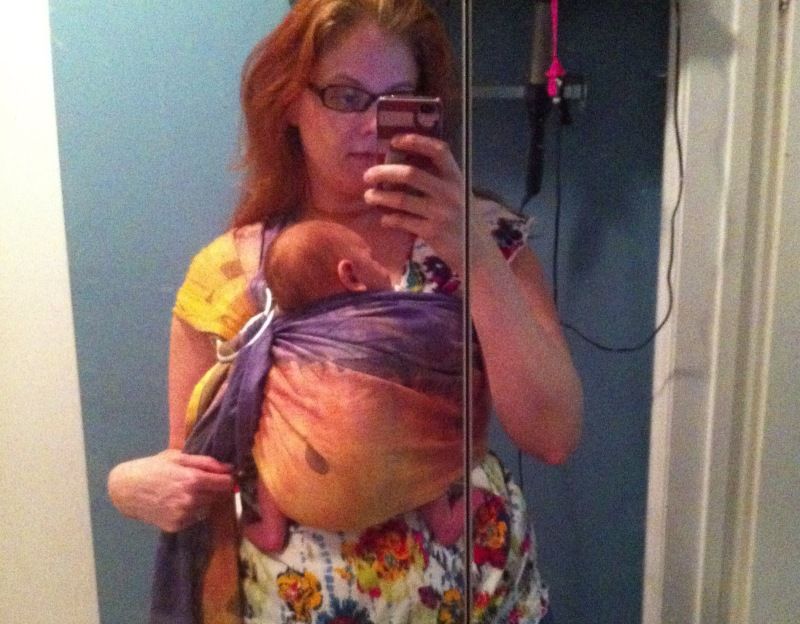 Once upon a time, we were told when wearing newborns that their legs should be froggied inside the carrier or sling.  Recently the Babywearing schools and Babywearing International have changed their standard for newborns to legs out.  I can see how the legs out philosophy would be better for the baby.  When in the sling with the legs in, they really aren't positioned properly for optimal spine and hip alignment….and the cradle carry should really only be used when nursing.  When in the leg out position they are in essence still in the froggy position like they should be when legs in… but their weight is being distributed in a different way and not centered on their tailbone like with legs in.
httpv://youtu.be/iLNp9r1c2jc
The sling featured in the video and picture is a wrap conversion ring sling made from a Natibaby Cashmere Balloons, converted by Sleeping Baby Productions and dyed by the lovely Color Dip Studios.  Stay tuned for Risa's post on these "BFF slings".
Looking for a ring sling of your very own?
We carry DidySlings in the TMD Store: http://themommydialogues.com/shop/
Want a wrap you already own converted?  Or an inexpensive ring sling?  Sleeping Baby Productions is your lady: http://www.sleepingbaby.net/
Like us on Facebook: https://www.facebook.com/themommydialogues
Vote for us (once every 24 hours) on Top Baby Blogs: http://www.topbabyblogs.com/cgi-bin/topblogs/in.cgi?id=themdi