Sitting down to nurse your baby, and as he or she latches and start to pull milk from your breast, you feel depressed, anxious, sad, angry, or even have a hollowness in the pit of your stomach.  Your milk lets down and those feelings retreat and you can happily nurse your baby.  Does this sound like you?  Have you thought all this time that you were crazy?  Were you ashamed of these feelings you had?  Did you think you had postpartum depression but only felt those depressed feelings while nursing?  You might be surprised to know that you are NOT alone and you are NOT crazy, that thousands of women experience these exact same feelings every time they nurse as well…and it has a name.  D-MER or Dysphoric Milk Ejection Reflex.
D-MER is defined as an anomaly of the milk-release mechanism in lactating women.  A lactating woman who has D-MER experiences a brief dysphoria  just prior to the milk ejection reflex.  D-MER always presents as an emotional reaction, but may also produce a hollow or churning feeling in the pit of the stomach. When experiencing D-MER, mothers may report any of a spectrum of different unpleasant emotions, ranging from depression to anxiety to anger. Each of these emotions can be felt at a different level of intensity.
This little known and seldom talked about condition is slowly starting to gain a foot hold in the US. People are finally talking about it, and because people are talking about it, women who have this condition are finally able to realize that they are not alone, they are not crazy and it's NOTHING to be ashamed of.  I had never heard of D-MER until last year when a midwifery page I follow on Facebook shared the D-MER.org website and I began to learn about this phenomenon.  I had never met anyone with D-MER until yesterday when I met two!  Neither woman knew she had this condition.  As I was listening to them talk, it became clear how important it is for there to be awareness and eduction about D-MER.
One of the women I met yesterday was a nurse, and as I started explaining D-MER to her, her eyes got wide and I'm pretty sure I saw tears form.  She told me how she felt these feelings while nursing her son, and the guilt she carried with her over these feelings was tremendous.  She still had so much guilt over these horrible feelings she had before letdown two years later, and she honestly thought she was crazy and completely alone.  She told me about the horrible anxiety she would feel when her son latched on and how she literally wanted to crawl out of her skin until the feelings magically dissipated, but she had no idea why.  She identified herself as an anxious person in general, and she had always attributed these feelings to her anxiety and never associated the release of these feelings with her let-down.  Looking back, she sees how the release in her feelings did indeed coincide with her let-down, and the relief in knowing there was a reason for it was instant.
There is no real treatment for D-MER, although an increase in dopamine levels has shown to decrease the condition in some women.  Most women have reported a lessening in symptoms simply from being aware that they have the condition and that it's not just them, that there is a sisterhood of women all across the globe who feel the exact same way and who also feel that they are entirely alone in it.  I'm here to tell you, ladies, you are not alone.  You are out there and you are many. You don't have to suffer in silence.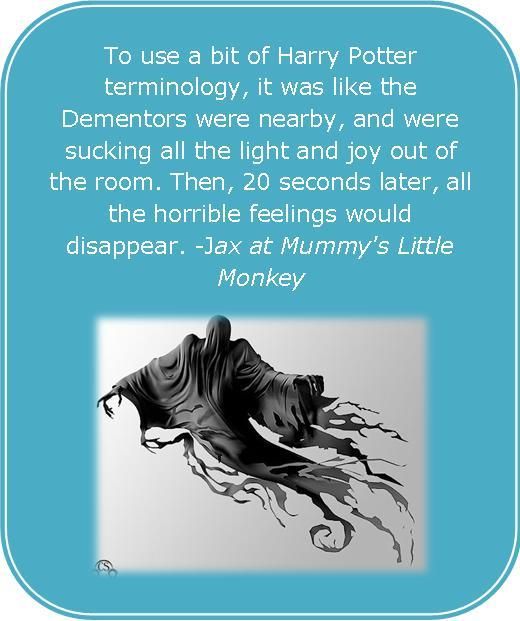 Do you have D-MER? Leave a comment and find others like you
Like us on Facebook: https://www.facebook.com/themommydialogues
Vote for us (once every 24 hours) on Top Baby Blogs: http://www.topbabyblogs.com/cgi-bin/topblogs/in.cgi?id=themdi
Vote for us on Circle of Moms Mompreneurs (we are in the pending approval): http://www.circleofmoms.com/top25/Top-25-Mompreneurs-2012-2012?trk=t25_Top-25-Mompreneurs-2012-2012#_