At the SquishyHouse we enjoy a good tart pie….really a good tart anything.  Several years ago during a Market Day shopping trip we came across an apple and cranberry pie during the holiday season that we just had to try.  We love cranberries and we love apples and who could go wrong combining the 2 into 1 delicious pie….and it WAS delicious but also the one and ONLY time we have ever been able to find a ready made cranberry apple pie so I started making them myself.  After a couple years of trial and error I have finally perfected my recipe for Crapple pie.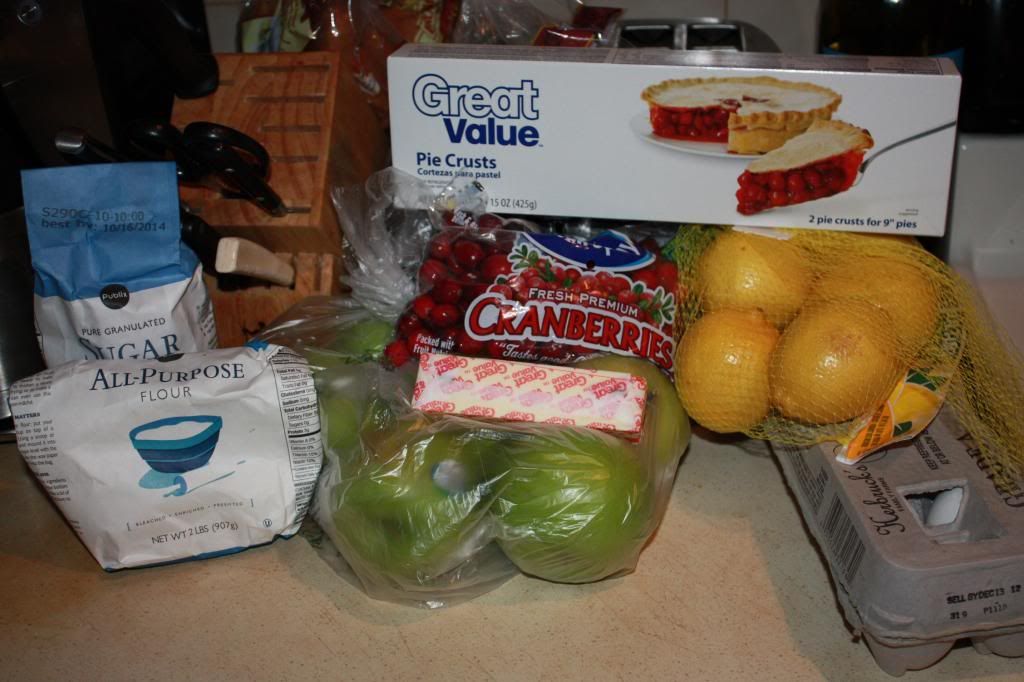 What you need…granny smith apples, lemons, cranberries (frozen or fresh), butter, eggs, sugar, flour and 2 pie crusts (homemade or not)
We are going to start with the apples.  Peel and thinly slice 5 large granny smith apples and throw them into a large mixing bowl and preheat your oven to 425 degree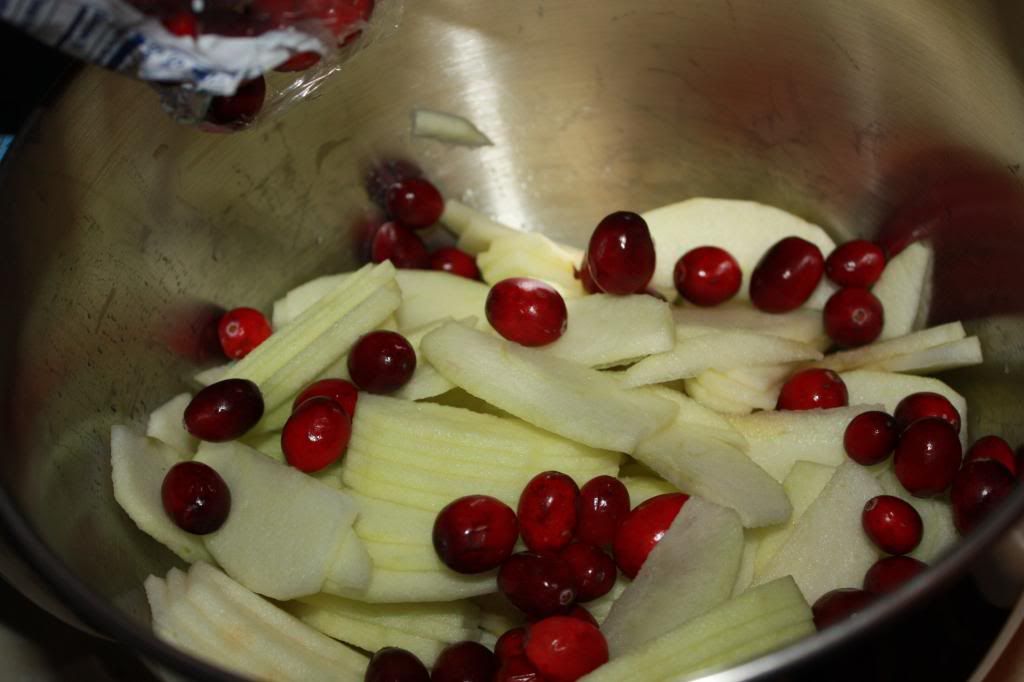 Add in cranberries to your liking.  We like A LOT of cranberries so we tend to add in nearly an entire bag.  Fresh or frozen work equally well…I generally use frozen myself because they only sell fresh cranberries here around the holidays.  I used fresh this time because they just happened to be sitting next to the apples in the produce section.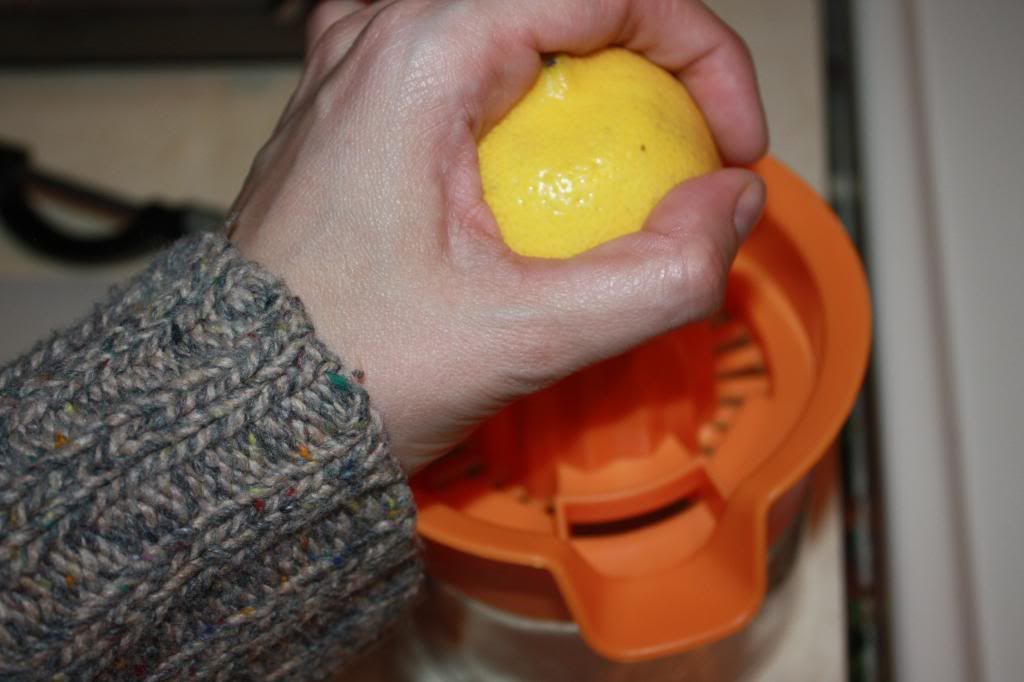 Juice 2 whole lemons
Pour ALL the lemon juice into your apples and cranberries
1 cup of white sugar goes in too
1 stick of melter butter (salted)
and 6 heaping tablespoons of flour (I use an actual Table Spoon)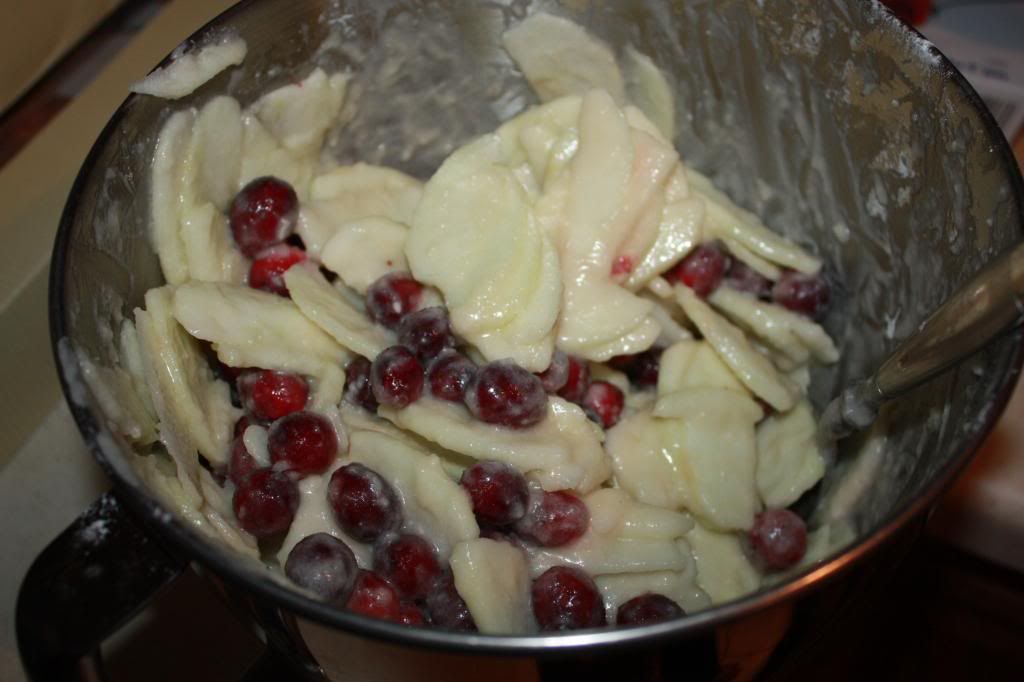 Mix it all together and set aside while you prepare your pie tin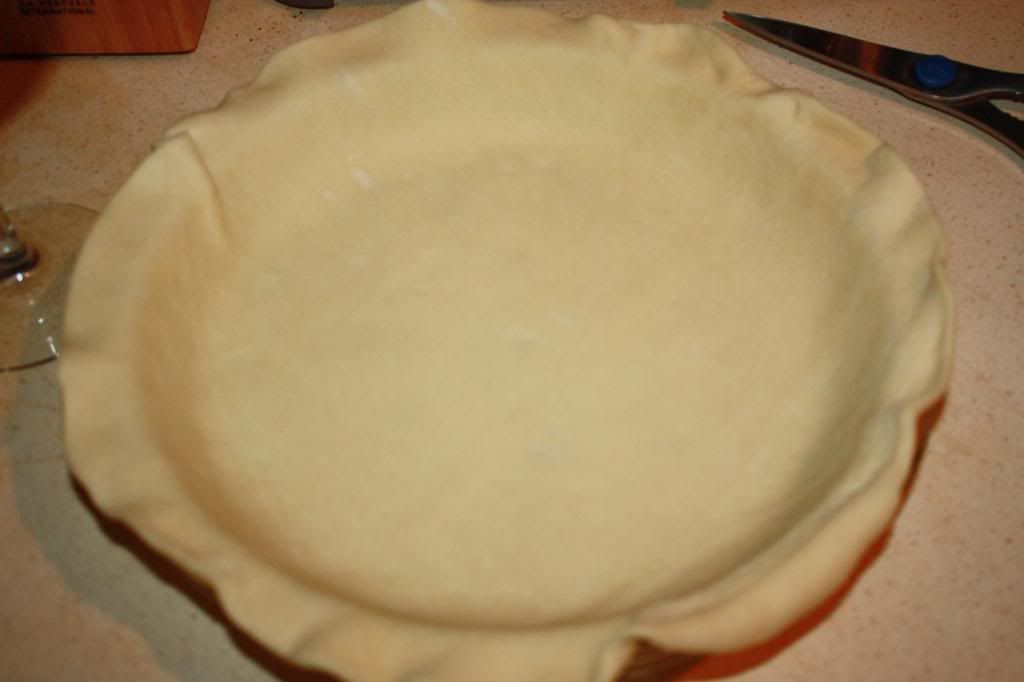 Press your bottom pie crust into your pie tin.  I am completely incapable of making pie crust from scratch….it just never ever comes out so I've taken to using premade pie dough that comes in a tube.  Super easy.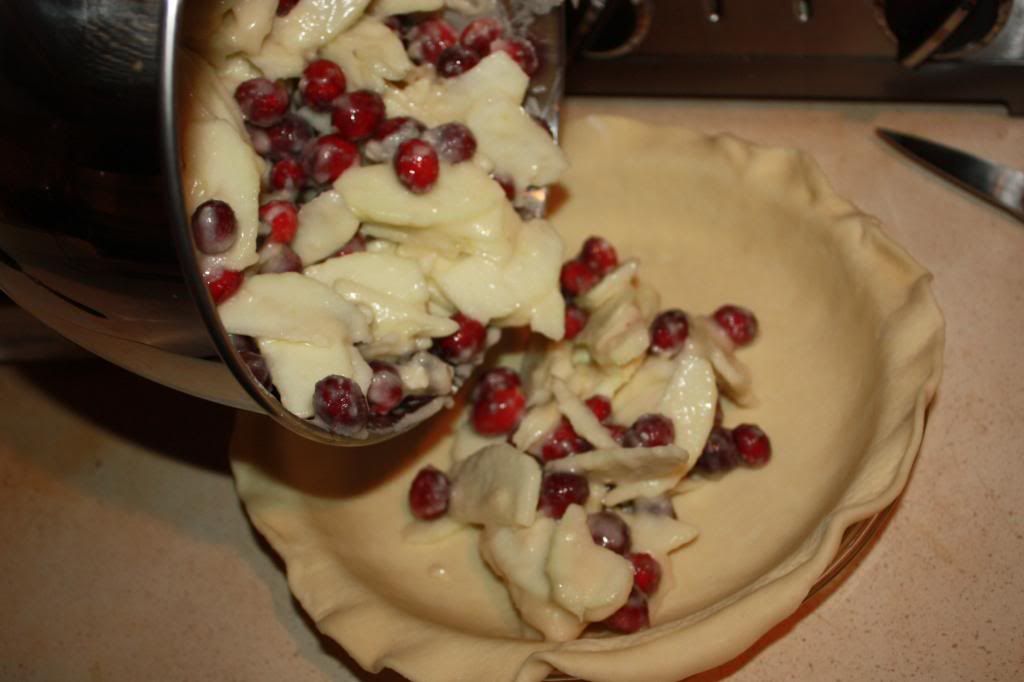 Dump the entire contents of your bowl into your pie crust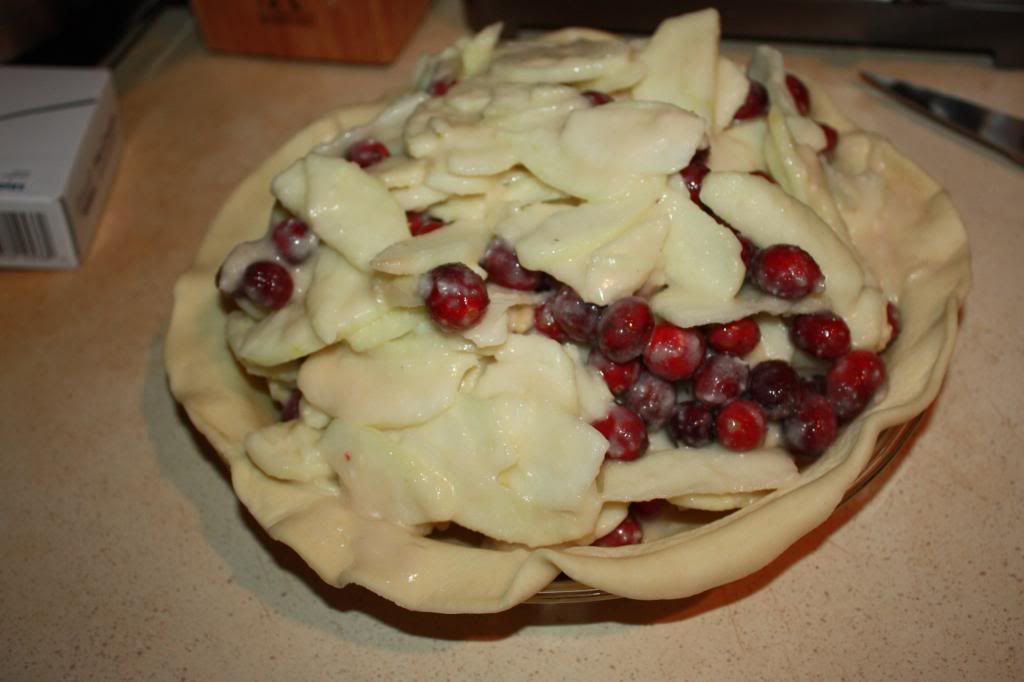 It looks like it's overflowing but trust me, the filling will reduce in size after it's cooked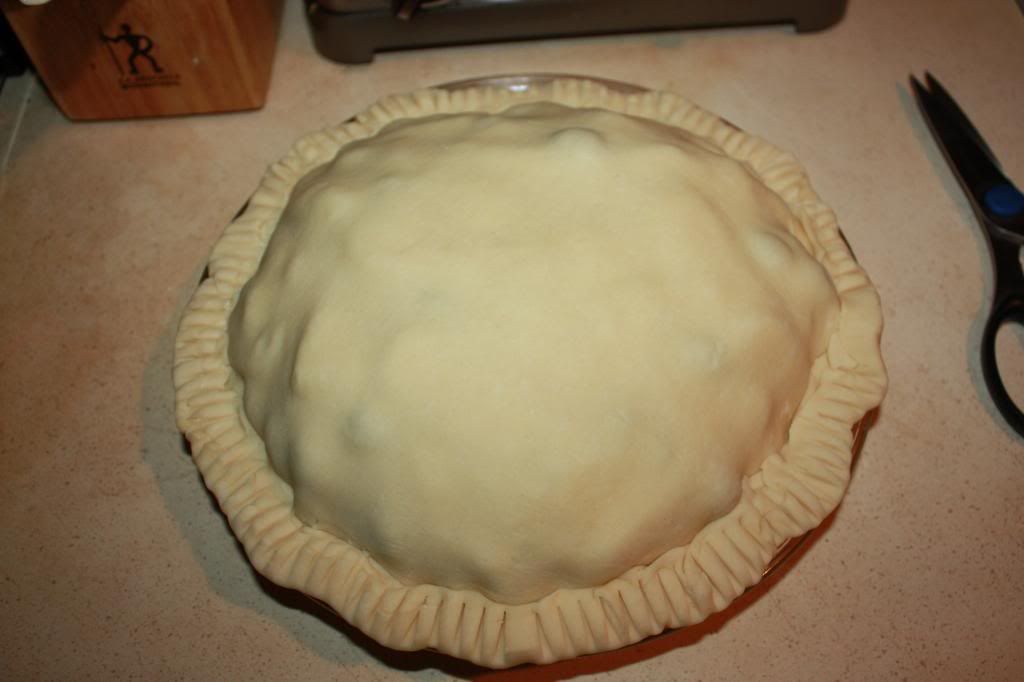 Top your pie with a second piece of pie crust and seal the edges.  I do a combination of turning the edges under and then also pressing a fork along the edge. Many a pie has come out of my oven leaking juice EVERYWHERE and I think I have finally perfected the perfect combination to keep the juices sealed in.
Now the pie needs a venting hole so it doesn't explode while in the oven
You can do venting holes however you like.  You can cut your normal slits in the top which I do sometimes.  Or you can cut fancy shapes out of the top to make it look pretty.  Some people even use special pie vents which are usually shaped pieces of metal, glass or ceramic that you press into the top of a pie to vent it.
Line the edge of your pie with foil so the crust edges don't get to well done
Separate 1 egg, keeping the whites and discarding the yolk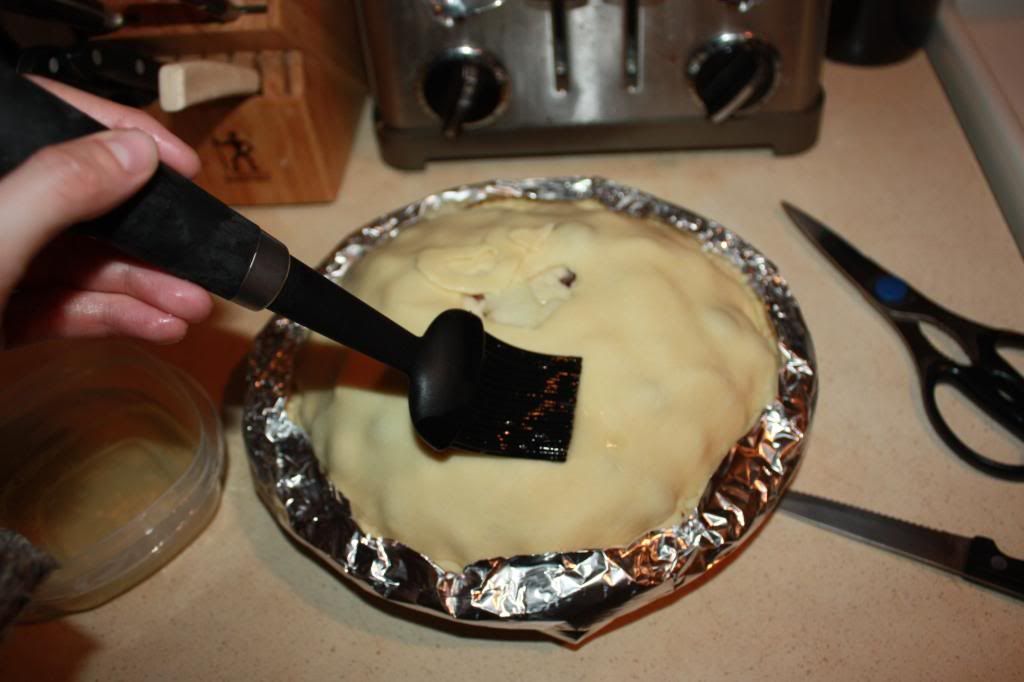 Brush the egg whites in a thin layer all over the top of your pie.  This is going to give you that nice shiny crust.  You do not HAVE to do this step, but your crust will not have that glossy appearance after it's baked.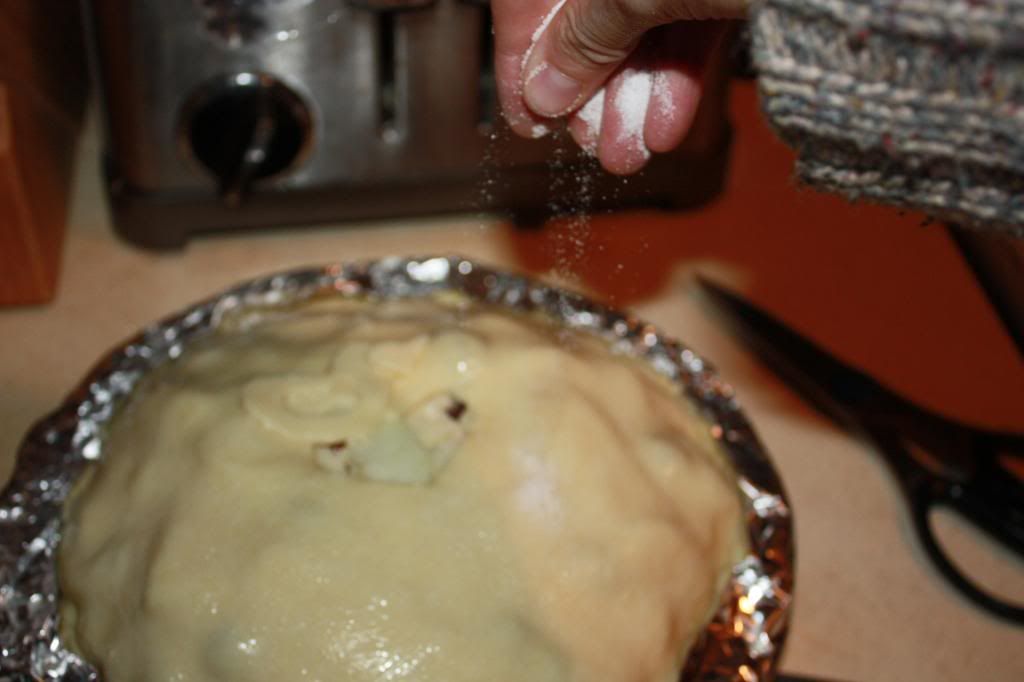 Generously sprinkle sugar over the entire top of the pie.  The egg whites will help it stick better.  If you want more of a visually pleasing appearance you can use course sugar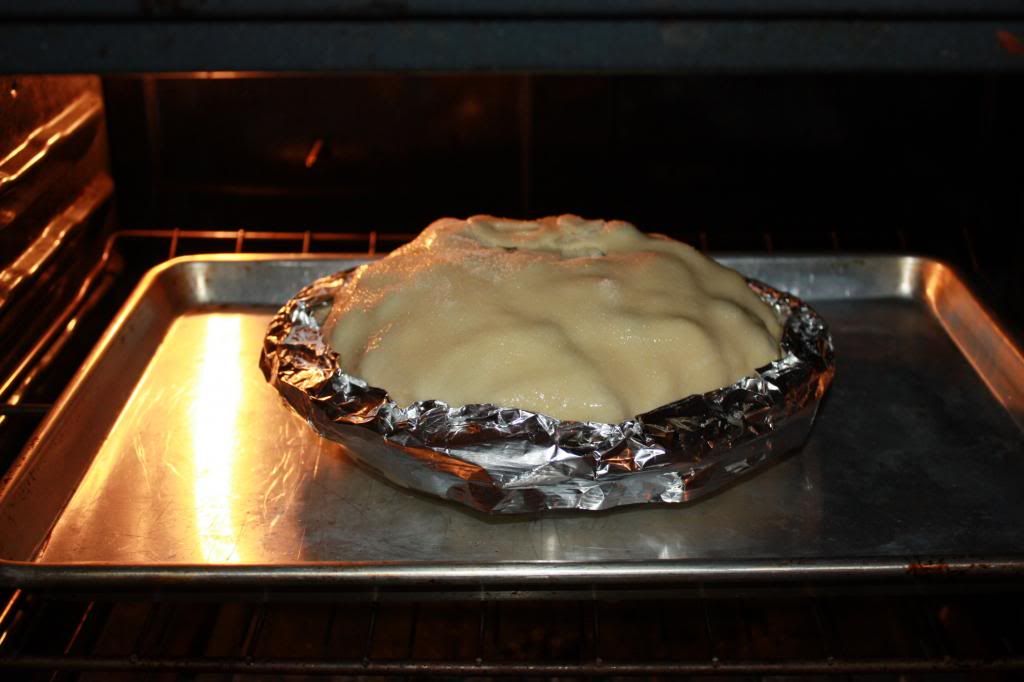 Place your pie into your already preheated 425 degree oven and bake for 55 minutes to an hour.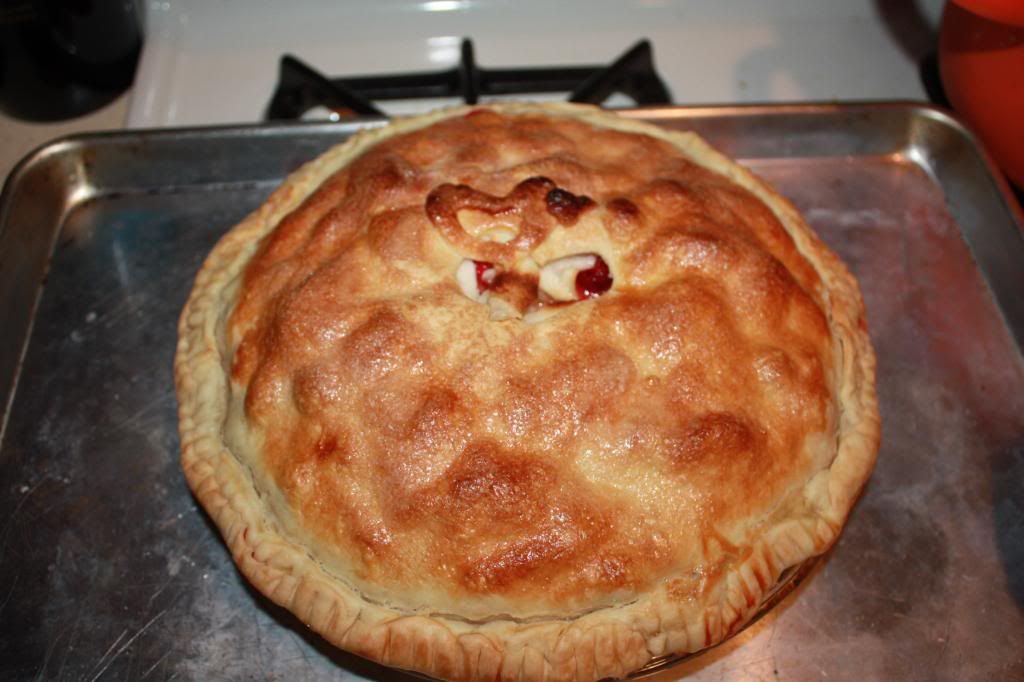 After it's done baking…remove your foil and let the pie cool COMPLETELY before cutting into it so the filling stays put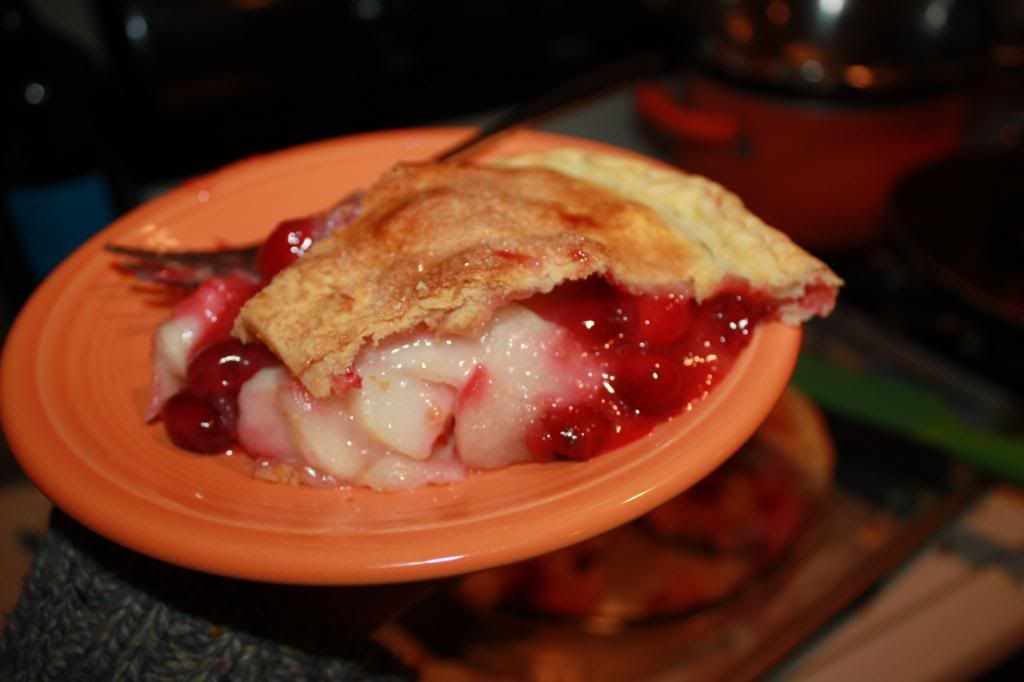 As you can see we are not a family of waiters and cut into our pies as soon as they coms out of the oven….and it was delicious, even if it was not the "perfect piece".
Enjoy!
Like us on Facebook: https://www.facebook.com/themommydialogues
Vote for us (once every 24 hours) on Top Baby Blogs: http://www.topbabyblogs.com/cgi-bin/topblogs/in.cgi?id=themdi