I was so excited when SquishyBaby and The Girl were picked to be the Svan Lyft Booster Seat reviewers.  We had been looking to buy a booster seat for a while and being the frugal (read "cheap") people that we are, we were leaning towards the very inexpensive space-saver type seats.  Upon receiving the seat, I was very surprised with how small it was when it was all folded up, and pleased with how well it fit on our chairs.  The Girl immediately hopped into it and proclaimed it the "bestest seat ever."  My only real dislike about the seat is that it is difficult to undo the buckle.  It's very hard for me, as an adult, to undo it.
The first night we had our Lyft, we went out to eat and decided to test out its portability.  The Lyft comes with a bag for easy transportation and it fit very well onto the restaurants seats.  SquishyBaby is usually stuck on the end in your typical restaurant wooden high chair, and he was super pleased to be sitting with the big kids and Mom and Dad.  We've used it every time we've gone out to eat since we received it and I really like having my own seat for SquishyBaby and I know he feels more included then he did when he was stuck at the end of the table.
Normally, The Girl (who is 4 1/2) eats on her knees, but the Lyft has allowed her to sit normally at the table, which has really cut down on clothing messes ;).  It's also cut down on the "whose sitting where" fighting because she likes sitting in the Lyft and up to the table.
I think my favorite thing about the Lyft is it's travelability (I know that isn't a word :P).  This is a standard-sized carry-on suitcase.  The Lyft is folded all the way down and fits perfectly into the suitcase.  If you've ever traveled with kids, eating in the airport can be a NIGHTMARE.  There are usually no high chairs of any sort for kids to sit in, so you end up holding your kid on your lap as he or she grabs at your food and occasionally dumps it all over the floor (five-second rule totally applies).  I can also see this as the perfect solution to eating that continental breakfast at the hotel in the breakfast area and not in your room., which is something we are used to doing.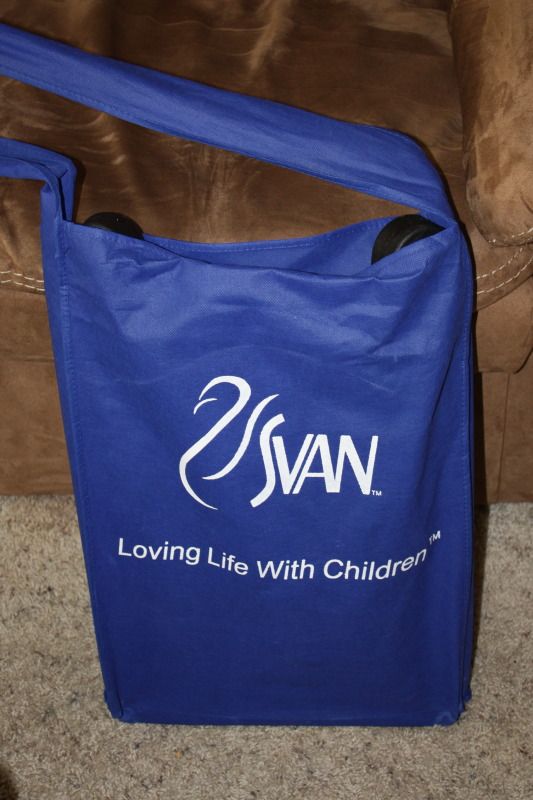 All and all, we LOVE the Lyft and are so thankful to have been given the opportunity to own one. A big thanks to Scandinavian Child for making a giveaway of this awesome booster seat possible!
Specs for the Svan Lyft Booster:
For Children 18 months and up
Ultra Compact, no assembly required
Carry bag included
Adjustable Telescopic arms
Adjustable fixing straps
Three-point adjustable harness
Non-slip adjustable feet
Pros:
Great portability
Stylish
Well made
Haven't met a chair it doesn't fit yet
Great for Travel…I am looking forward to taking it to DisneyWorld with us in November and to the ABC Expo in Kentucky with Xza next month!
Compact
Cons:
The buckle….it is SOOOOOOOOO hard to undo
The price.  As a cheapey shopper, $80 is way out of our personal budget for a booster chair.  However, with that said, it is TOTALLY worth every penny.  If it was $30 cheaper, I would buy one for every.single.person I know with kids.
We love our Lyft
Now for the Giveaway:
One lucky winner will receive a Svan Lyft Booster Seat of their color choice
To enter: Leave a comment here with why you think you and your child would love the Lyft and why you should win. Goodluck!
Winner will be announced on Oct 8th
Full Disclosure:
I was not paid for this review, I was given a Lyft Booster Seat from Scandinavian Child but that does not affect my review of this product.  If I didn't like it, you would know.
Check out all the other neat products that Scandinavian Child makes besides the Lyft: http://www.scichild.com/
Also like them on Facebook: https://www.facebook.com/ScandinavianChild?ref=ts
Like us on Facebook: https://www.facebook.com/themommydialogues
Vote for us on Top Baby Blogs (once every 24 hours): http://www.topbabyblogs.com/cgi-bin/topblogs/in.cgi?id=themdi
Vote for us on Circle of Moms Mompreneurs: http://www.circleofmoms.com/top25/Top-25-Mompreneurs-2012-2012?trk=t25_Top-25-Mompreneurs-2012-2012
Tags :
Alyssa
,
booster seat
,
Featured
,
giveaway
,
giveaways
,
lyft
,
review
,
reviews
,
Scandinavian Child
,
svan
,
svan lyft
,
the squished hippie