Everyday when I am out and about, I see at least one person who is doing something incorrect with their child and their carseat.  More often than not, it's more like three, four, or ten things wrong.  Here is a short list of the top 10 things that people do wrong with their carseats.
1. The harness of the carseat is not in the correct position.
How it should be…..at or below shoulder level for rearfacing and at or above for forward facing
2. Straps not tight enough
How it should be….the straps should be tight enough that you cannot pinch them between two fingers
3. Chest clip in wrong position
How it should be….the chest clip should be even with the armpits
4. Carseat not installed properly
How it should be….(a) The carseat should not move more than one inch at the belt path when it's installed, (b) you are using either the seatbelt OR the latch, NOT both, and (c) if your car is made before 1996, you are using a locking clip
5. Infant seat handle in the wrong position
How it should be….READ YOUR MANUAL, every infant seat requires something different.  Some require it down, others require it up, and some don't specify.
6.Using aftermarket products
How it should be….any aftermarket product that goes behind the child, interferes with the harness, replaces any part that came WITH the carseat, is not approved for use with the seat and by the manufacturer, or can become a projectile in the car during an accident should NOT be used.  This includes but is not limited to harness covers, head supports, bundle me's, suction cup window shades, protective mats, toys on the handle bar of an infant seat etc.
7. Carseat not at the right angle while rearfacing
How it should be….for a reafacing infant, the carseat should be at 45 degrees.  For a toddler, the carseat can be between 30-45 degrees.  If you have a smart phone, you can download an angle level for your phone (if you have an iPhone, Angle Meter is a good one).
8. Latch borrowing
How it should be…first you might be asking yourself what is latch borrowing?  Latch borrowing is when you are installing your carseat with latch in a seating position that has no latch and are "borrowing" the inboard latch anchors from the seating positions on either side.  What is wrong with this, you may be asking.  Nothing is wrong with it if BOTH your car maker AND your carseat maker allow this to happen.  However, if BOTH your carseat and your car do not allow for latch borrowing, you cannot do it.  It is unsafe.  You may be asking yourself why this is.  It's because the latch anchors in each seating position are 11 inches apart…in the center position (the seating position where latch borrowing would happen), the span between the inboard anchors on either side will likely be greater than 11 inches.  Some seat makers allow for latch borrowing ONLY IF the span when latch borrowing is also 11 inches while other makers allow for a great span between the two anchors.  Read your manual for BOTH your car AND your carseat…if it doesn't specify, call the maker of both and ask specifically about latch borrowing.
9. Putting the infant seat on top of the cart
How it should be….the carseat should NEVER go on top of the cart.
Carseat Manual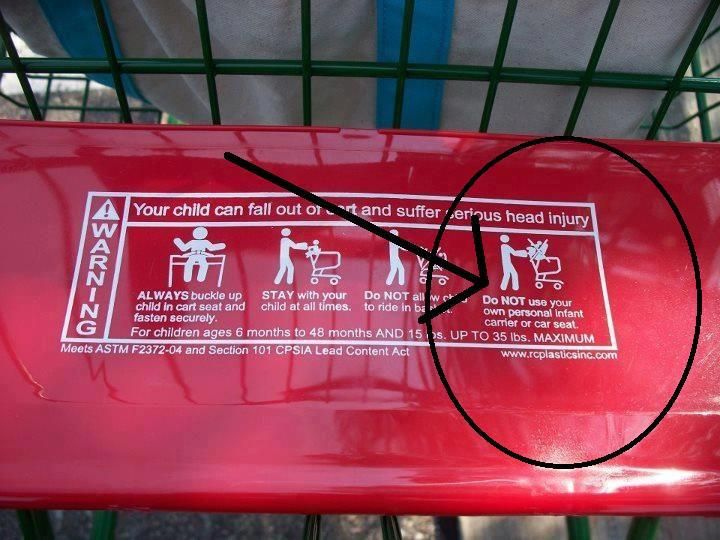 Shopping cart
10. Wearing heavy winter jackets or snowsuits while in the carseat
How it should be….NEVER use heavy jackets or snowsuits while in the car.  In the event of an accident, the suit/coat will compress and the baby could be ejected from the carseat.  What you can do instead is find a thin fleece snowsuit (Columbia and Old Navy usually carry them) or thin fleece jacket, cover them with a blanket and preheat your car.  I live in Wisconsin, so I know about cold winters.  Snowsuits and jackets are never safe while in the carseat.
Safe Travels!
Looking for a carseat tech in your area or want to become a tech?  Visit here https://ssl13.cyzap.net/dzapps/dbzap.bin/apps/assess/webmembers/tool?pToolCode=TAB9&pCategory1=TAB9_CERTSEARCH&Webid=SAFEKIDSCERTSQL
Like us on Facebook: https://www.facebook.com/themommydialogues
Vote for us (once every 24 hours) on Top Baby Blogs! http://www.topbabyblogs.com/cgi-bin/topblogs/in.cgi?id=themdi
Vote for us on Circle of Moms Mompreneurs (once every 24 hours): http://www.circleofmoms.com/top25/Top-25-Mompreneurs-2012-2012?trk=t25_Top-25-Mompreneurs-2012-2012