Many people dont know that in quite a few states in the country, trained Certified Professional Midwives can go to jail for attending homebirths.  That's right…in some states like Illinois for example (where I had my first homebirth) my midwife, could have been charged with a felony for being my midwife had she been "caught".  In WI, it is not only legal for CPM's to attend homebirths, but they are licensed to do so, even students are licensed (as long as a licensed CPM is present).  You might be asking yourself what a CPM is.  A CPM is a Certified Professional Midwife.  Unlike their nurse counter parts, Certified Nurse Midwives….CPM's are not generally nurses.  That doesn't mean they are inferior, or give inferior care.  Quite the contrary actually.  They are specifically trained in out of hospital birth, and go through rigorous training in order to sit the NARM and gain their credentials.  In the CPM 2000 study published by the BMJ, it concluded that "Planned home birth for low risk women in North America using certified professional midwives was associated with lower rates of medical intervention but similar intrapartum and neonatal mortality to that of low risk hospital births in the United States." So clearly it's a safe option…..just as safe as a hospital in fact.
Currently there is a witch hunt going on in IN.  A state that has virtually the same laws as IL in regards to CPM's.  They also don't allow their CNM's who chose to practice in an out of hospital setting, access or permission to carry and use potentially life saving drugs like Pitocin and Methergine.  Something that is afforded to the CPM's who practice here in WI and the CNM's who do homebirth in IL.  In the last month, 2 Indiana CPM's have been arrested and charged with "Practicing Medicine without a license"…which is a felony.  For over 30 years the birth community has been fighting tooth and nail to get CPM's licensed in IL.  I personally have made several trips down to Springfield to help lobby for the bills that would give women access to safe, evidence based legal and licensed maternity care in a out of the hospital setting.
Recently I was part of a birth that was nothing short of a nightmare.  For years I've read and heard the horror stories of homebirth transfers with CPM's in a illegal state.  I had been at a few homebirths that ended in transport in the past, but never with any issue.  Everything went smoothly and I chalked it up to being in Chicagoland, which seems to be pretty progressive.  Mama was a VBAC, her first baby was born by csection, so this was going to be her first vaginal birth….she'd been having prodromal labor for going on 3 days now with no sleep and after being checked by her midwife and found her cervix to still be posterior, she decided to transfer.  She was done.  She wanted the epidural and she wanted to sleep.  When they got to Sherman Hospital in Elgin IL, the nightmare began.  They wanted her midwifes name, which she refused to give them…she told them she was a VBAC, refused an IV until they agreed to give her an epidural (but consented to a heplock), refused constant fetal monitoring and with her 9 year old daughter in the room they told her she was going to die, her baby was going to die and her uterus was going to rupture and that she COULD NOT dictate her own care (seriously I wish I was kidding folks…but those words were actually said) her daughter was seriously freaking out.  Because of them refusing to give the midwife's name they labeled her as having "no prenatal care" and sent her off for an ultrasound.  Mind you she is 41 weeks at that point.  During all this, they are having the ultrasound faxed over that the mother in law who is an ultrasound tech performed at 23 weeks and another 8 week ultrasound performed by her prior OB/GYN before she decided to have a homebirth.  Clearly mom is full term.  The ultrasound determines her baby is small (duh…her daughter was 6 lbs 1 oz) and that due to the size she's only 35 weeks and her fluid level is low.  Never mind the fact that ultrasounds done in the 3rd trimester are notoriously inaccurate for determining size, we KNOW she's not 35.2 weeks.  At this point I get to the hospital and they have decided to send her for a level 2 ultrasound.  The second I got there, I was accosted for the midwife's name myself and given the stink eye and talked down to when I refused to give it up. We are sent down to the Maternal Fetal Medicine Specialist (MFM) and a level 2 ultrasound is performed, they try to separate all of us at this point but mama refuses.  This ultrasound determines mama is 34 weeks and 5 days and has an AFI (amniotic fluid index) of 1.2…which is dangerously low.
This is when things get really bad and when HIPAA violation after HIPAA violation occurs from the staff of this hospital….the MFM tells her she is preterm and that they are going to try to stop her labor, put her on fluids and constant monitoring in the antepartum unit.  That she's lying about being 41 weeks, that she's really 34.5 weeks and her baby is preterm and she's in preterm labor. No matter the Ultrasounds that were sent over from both the mother in the law and the OB…the one from the mother in law isn't signed by a physician so it could be ANYONES (insert snort here) and the 8 week ultrasound wasn't an official dating ultrasound so they refuse to acknowledge EITHER of them.  Are you fucking kidding me?  Excuse the appearance of my normally foul mouth, that I try to control on this blog.  At this point mama is already planning to make a run for it to the hospital where the aforementioned Dr delivers and is being combative with the medical staff…which she had every freaking right to be.  Security and more nurses are called in and we are being grilled, berated and yelled at for the midwife's name and moms records from the midwife. "Why wont you give me her name", "Superior care indeed, you are preterm"….demeaning statement after demeaning statement.   One nurse pulled me aside and starts in on "how can she say this is superior care"…not knowing who she was talking to, I let that nurse have it.  I know the level of care the midwife gives, and it was certainly WORLDS above the care we are receiving now, you smug bitch nurse.  We'd finally had enough and mom bolts out of the poorly secured maternity ward and out to the parking lot….heplock still in her arm and hospital gown flowing behind her.
In the end mom had a lovely vaginal birth of her FULL term baby boy, complete with meconium and peeling skin, with an amazing OB who I have a slight birth crush on (he just delivered footling breech twins vaginally) at Good Shepard Hospital in Barrington, IL.  Yup he was totally preterm (gag).  Why do I tell this story?  This story is a perfect example of WHY not licensing CPM's can turn a hospital transfer into a nightmare.  How do you think we would have been treated if we could have walked in with the records, and the ability for them to speak with the midwife directly? Ok maybe not at this hospital, because they were just jackasses, but in a normal, caring compassionate hospital. When SquishyKid #4 was suspected to be breech and we had to confirm, we went to Labor and Delivery at a hospital near my midwife.  She went WITH ME.  When they asked who my midwife was, I told them her name and she was standing right beside me with my records in hand.  She had a long standing relationship with the on call CNM and we got a quick ultrasound to confirm position with no questions asked.  THAT is how it should be, and the only way that can happen is for CPM's to licensed.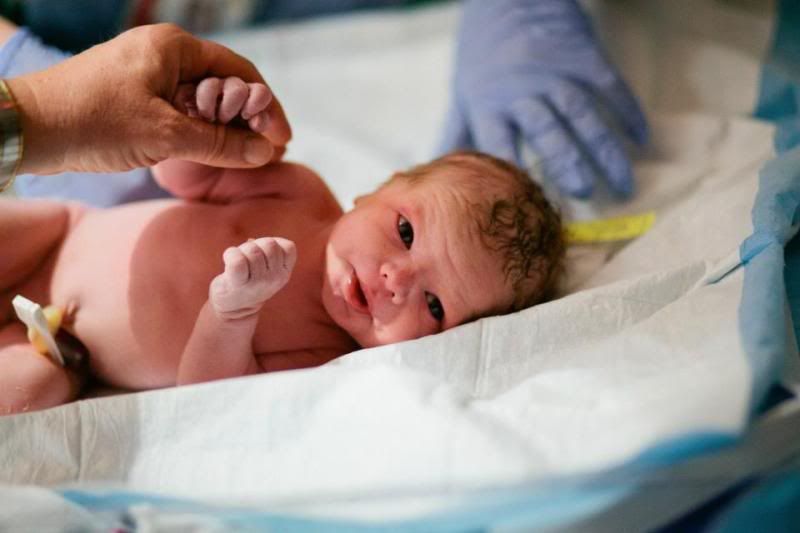 The "preterm" baby himself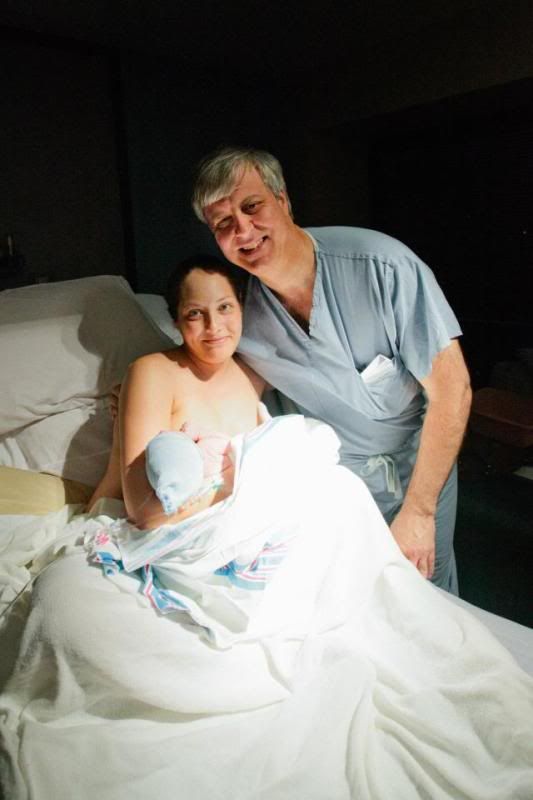 The man *big puffy hearts* Dr Dan Pesavento