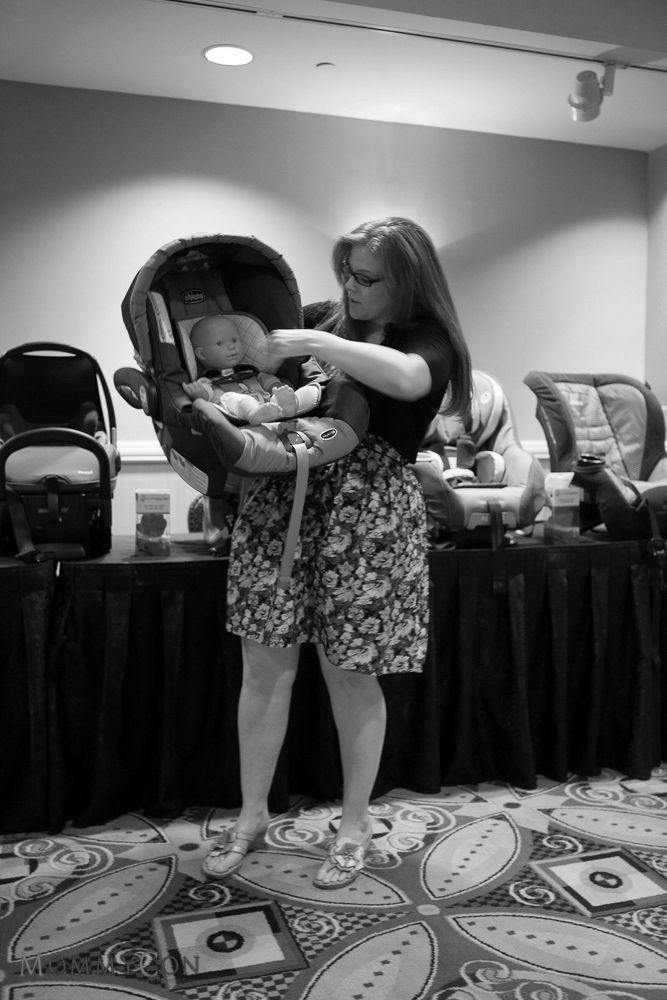 Public speaking and I are not close friends.  When Xza asked me to teach 2 seminars at MommyCon way back when this all started coming together, I wanted to throw up thinking about speaking in front of all those people.  Oh sure I've been teaching babywearing classes for years, but teaching a group of at MAX 10 moms is a completely different ballgame then getting up and speaking in front of hundreds of people.  The day of MommyCon Vegas dawned and I had been up half the night freaking out about what could go wrong.  Would I get up there and see all those people and freeze?  Or would I do something horribly embarrassing and run out of the room crying.  The horribly embarrassing moment did happen, I flashed everyone in my Carseat Safety Seminar (tip for public speakers….DON'T WEAR A STRAPLESS DRESS WHEN LIFTING THINGS!!!!!!) and while I did consider running out of the room with my face covered in shame, I sucked it up made a joke about showing everyone my goods and carried on.
With MommyCon Chicago coming up next weekend…I am again FREAKING OUT about speaking in front of all those people.  MCMC is going to be bigger then Vegas, and if Vegas was any indication….my seminars are going to be jam packed, which means I'll be speaking in front of nearly all if not all the attendees.  This time I will NOT be wearing anything strapless so if your coming for a peep show, you wont find one from me this time.  The Admiral is right down the street though ;).
Chicagoland is my area….many of the people coming know me or know of me because I am very active in the Chicagoland Babywearing and Birth communities.  It's so much easier to speak in front of strangers that you will likely never see again and have no prior relationship with.  Speaking in front of your community, at least to me is on a whole other level of freaking outness.  Seeing the room fill up for my seminars in Vegas was both amazing and terrifying.  The more people that walked in, the more scared and nervous I was.  I'm not a planner and don't pre-plan or practice or even write down what my presentation will be.  I've learned after many wedding speeches gone wrong that I am unable to read notes on a card, speak at the same time and remember my place on said cards…all while trying to hold and show off carseats or babycarriers.  It just doesn't work and it would be a giant disaster and I would really run out of the room crying.
My motto for MommyCon for myself? "Fake it until you make it"-meaning pretend it's just another day, that you do this all the time and maybe one day….you won't want to vomit in the bushes before every seminar.
Like us on Facebook: https://www.facebook.com/themommydialogues
Come to MommyCon and see me Fake it till I make it in person: http://mommy-con.com/