This recipe is one of our cheap "we have no money for gourmet food" meals.  It's delicious, cheap and easy to make.  It also makes an excellent leftover lunch!  It's not a lot of work and can be made ahead of time and put in the freezer to be popped in the oven on a night when you dont want to/cant cook.  There are so many variations you can do with it so you dont ever have to make the same pie twice.
What you need…onion, ground meat (we used turkey), potatoes, butter, tomato soup, canned/fresh/frozen veggies, milk, salt, pepper, garlic salt and red wine
Peel your potatoes.  I used 6 small and 1 averaged sized potato, that gave me enough to cover the entire top of the pie with no extras and preheat your oven to 350 degrees
Cut your potatoes into equal chunks…you want them to cook evenly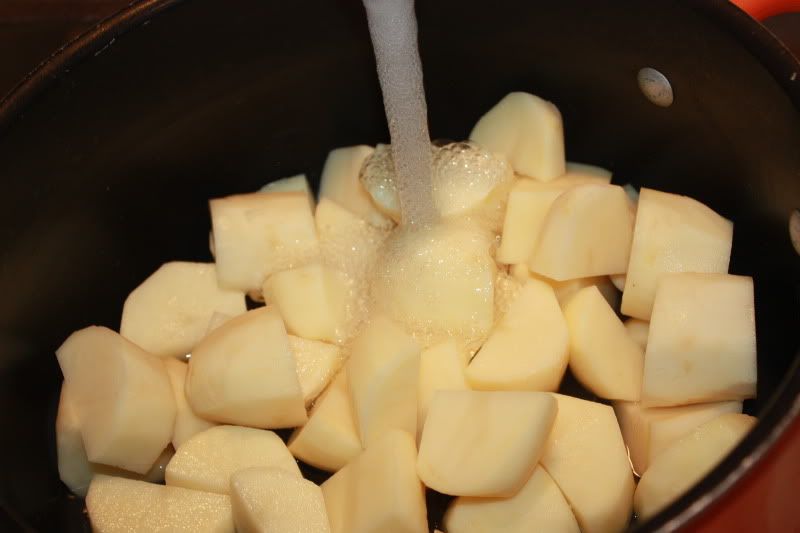 Throw them in a big pot and fill it with water
Put them on the stove to boil until they are fork tender
Drain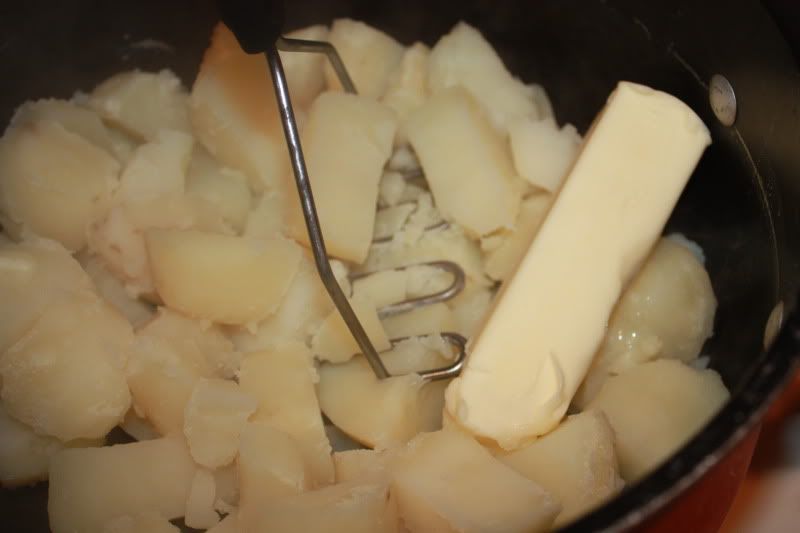 Throw them back into the pot and add 1 stick of salted butter….yes I said 1 stick! I take a page out of Paula Dean's book for my mashed potatoes.  The more butter the better.
Add some milk…..I dont really measure but if i had to guess I would say about 1/2 cup?  It's just to make them creamy.
Add in a generous amount of Garlic Salt.  I will only use Lawrys, but feel free to use whatever you like.  You can even use fresh roasted garlic (which I like to do sometimes) or garlic powder.  Make sure you taste and add salt if it needs it if you dont use garlic salt.
Give it a good mash and mix it around and give it a taste.  Season if needed and set aside
Melt 2 tablespoons of butter in a large pan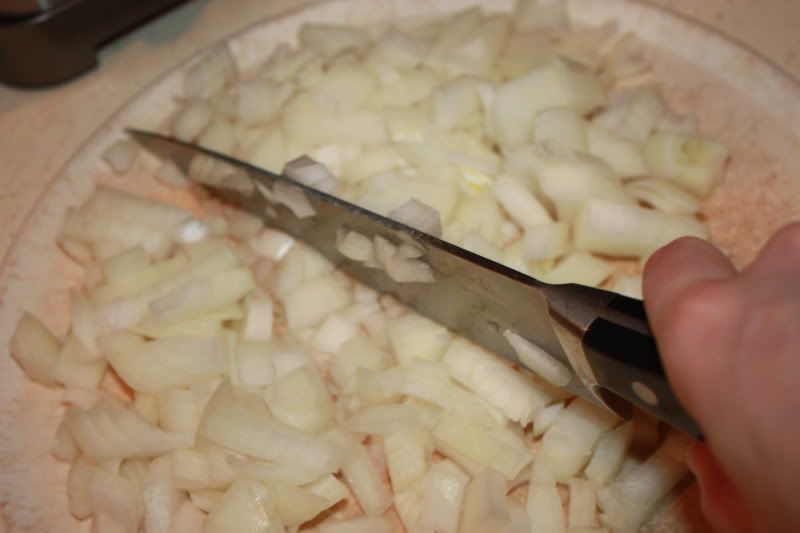 Chop up 1 onion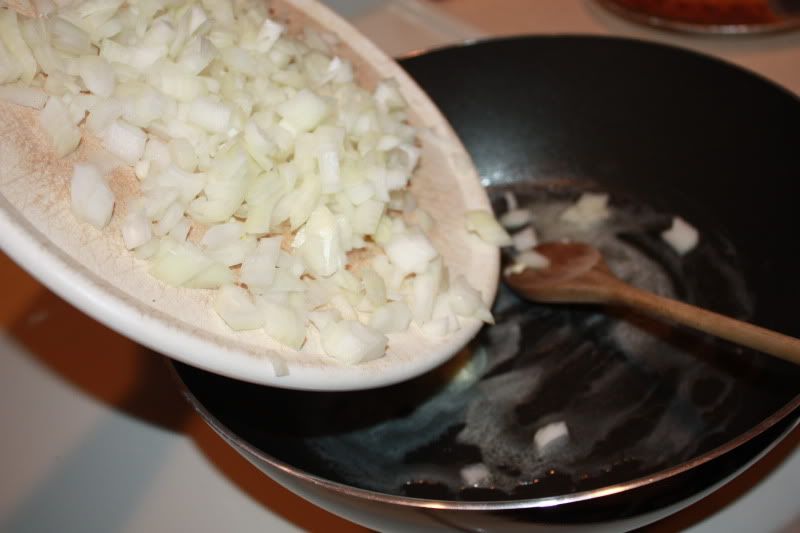 Add your onion to the pan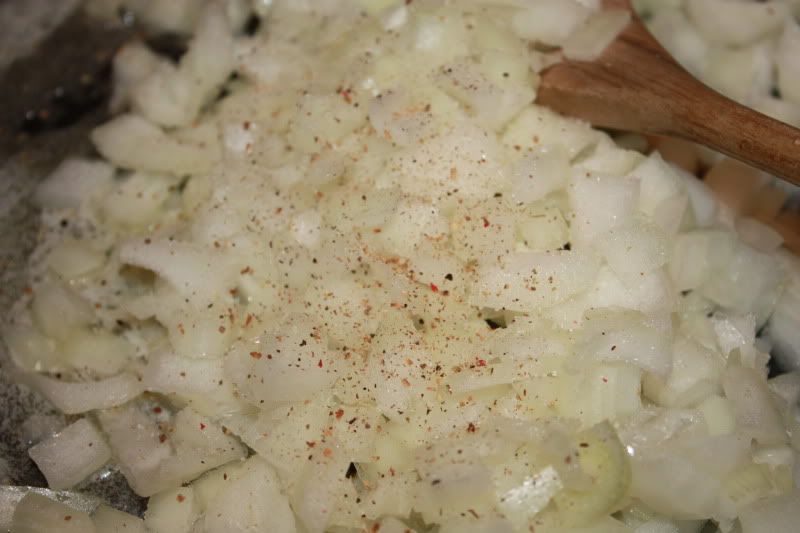 Season with salt and pepper….we like to use a McCormick grinder multi colored peppercorn thingy….which rocks.  The Italian seasoning and garlic pepper grinder are fantastic as well.
Sautee your onions until they start to caramelize…this is a very important step.  Dont jump the gun and move on to quickly.  The carmalization in the onions give the pie a nice sweetness.  Besides who doesn't like caramelized onions?  Well my best friend doesnt, but she's crazy =P.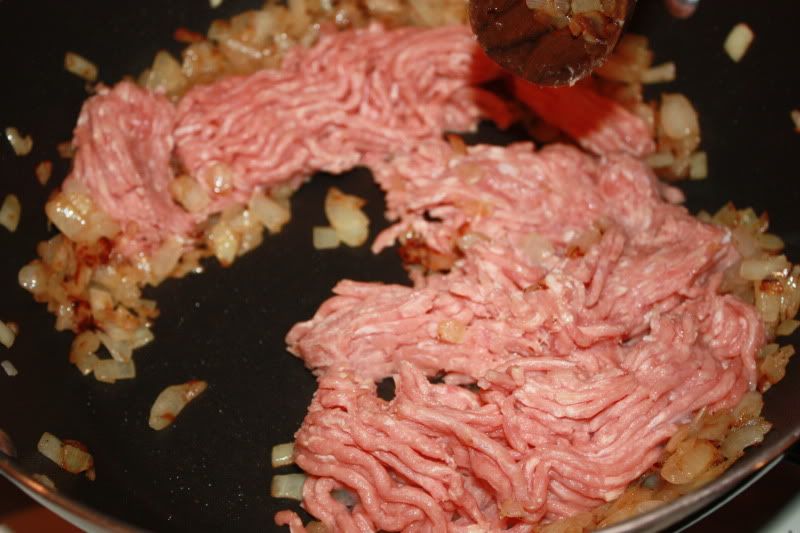 Once your onions are nice and golden add in 1 pound of ground meat.  You can use whatever meat you want.  For this batch we used Turkey.  It was on sale and I personally think it tastes better then beef…but use whatever you like.  Buffalo is very good in this recipe….never tried venison but I bet it would be excellent!  Brown your meat until it's brown all the way through.
Once your meat is browned….add in 1 can of tomato soup.  I prefer Campbell's myself…but you can use whatever you like.  The Walmart brand is pretty decent.  I just find the Cambell's makes a better richer sauce.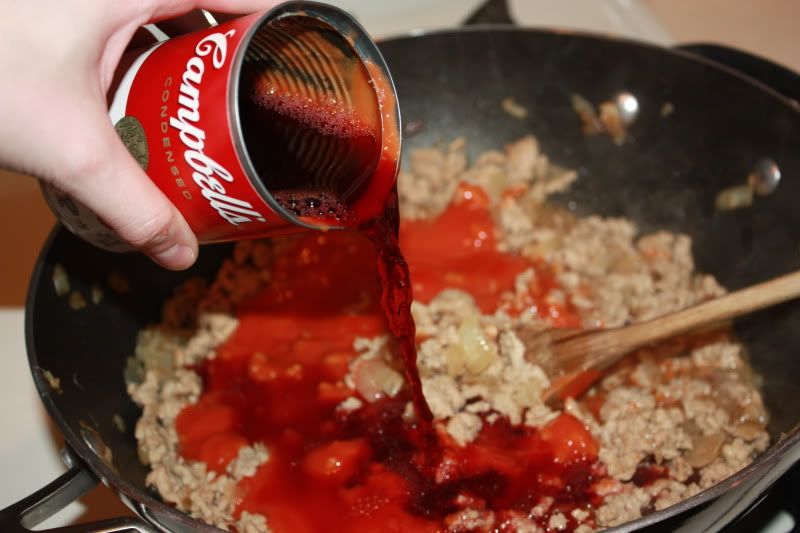 Add in 1/2 can of red wine….you can use whatever red wine you like.  I used a Ravenswood Zinfandel, because that is what I wanted to drink.  It also happens to be one of my favorite wines to cook with.  It makes delicious sauces….plus my sister's portrait used to be hung in their vineyard.  She has the symbol tattooed on her back.  Fantastic wine!
Give it a good stir and bring it to a simmer and let the sauce reduce to about 1/2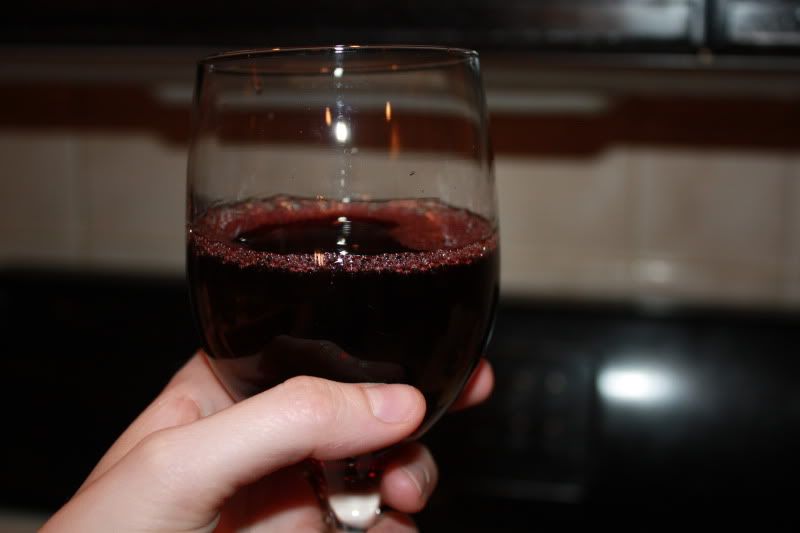 Have a glass of wine while you wait 😉
Once your sauce has reduced pour the meat and sauce into a casserole dish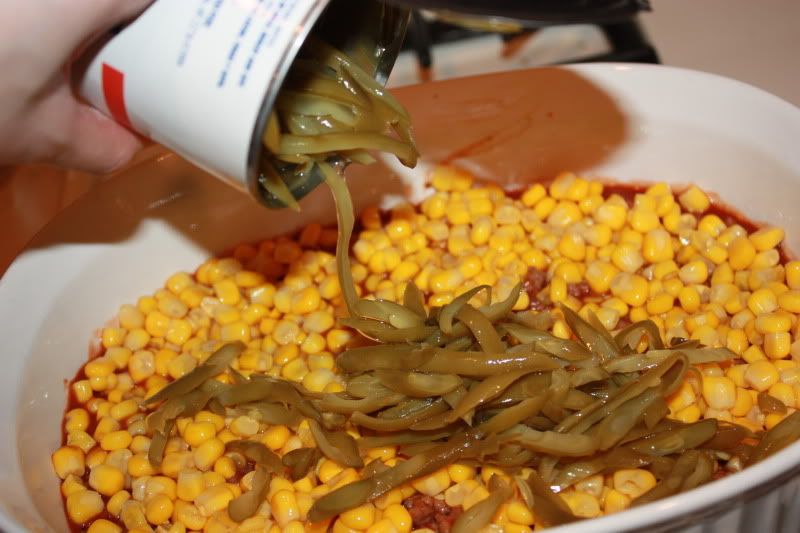 Open and drain your veggies if you are using canned….our favorite combo is corn and green beans.  I like french cut personally.  If you are using frozen, nuke them for a few mins and drain the water before adding and blanch the veggies if you are going to use fresh.  Season with salt and pepper.
Spoon your already made, and set aside mashed potatoes on to the top of the veggie covering the top
Smooth out the top of the mashed potatoes so you dont get any high places that will burn easy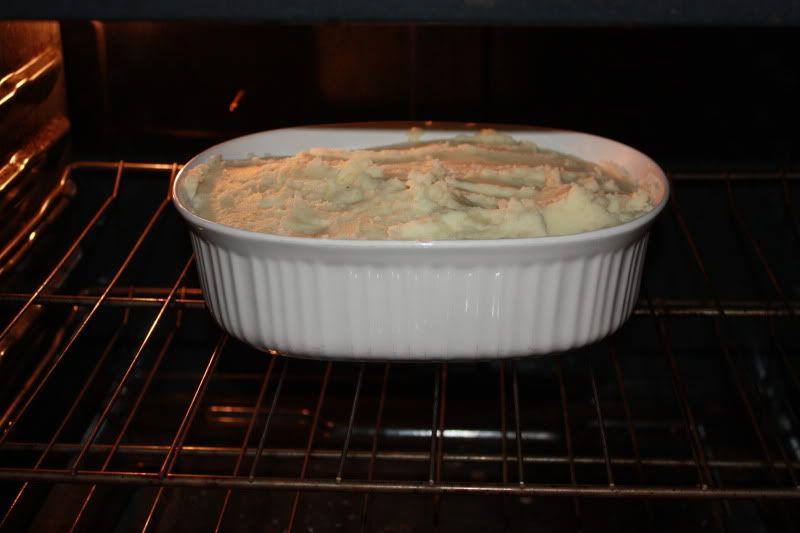 Stick in your already preheated oven for 40 minutes.
The top should have some nice golden spots and the sauce should be bubbling around the edges when the pie is done.  Serve up and enjoy your Jazzed Up Shepards Pie!  Yummy