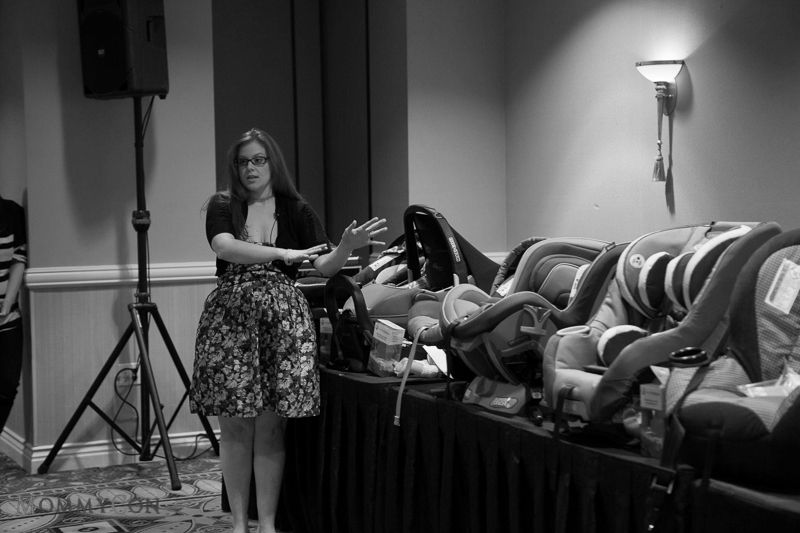 One of our biggest requests since MommyCon has been for me to recap my carseat safety seminar and what I went over….and while I would love to give everyone a word for word play by play of my seminar, that would turn into a 30,000 word post and who wants to read that? So what I am going to do is quickly go over the basic's and give a quick shout out to each seat that was featured, and then I'll answer some questions from our readers. Sound good? Ok here we go!
I started off my seminar by talking about the basics in carseat safety. My posts HERE and HERE go over the same (and more) information that was presented during my seminar. I also went over the importance of rearfacing for AS LONG as possible, my post HERE can tell you all about why I think rearfacing is the best choice for your child and the recommendations behind rearfacing until the bare minimum of 2 years old. We then moved into the different types of carseats that we had featured which were infant seats, convertibles and boosters (both High and low back) ranging from the Chicco KeyFit all the way up to the Clek Oobr and even the Chicco NextFit which isn't even out yet! It was such a treat to be able to showcase seats that *I* really believe in and am passionate about and recommend to everyone who asks, like the Chicco NextFit, Graco Size4me and Cosco Apt.
Now I am going to give a short overview of the seats we had featured and then we'll move into our readers questions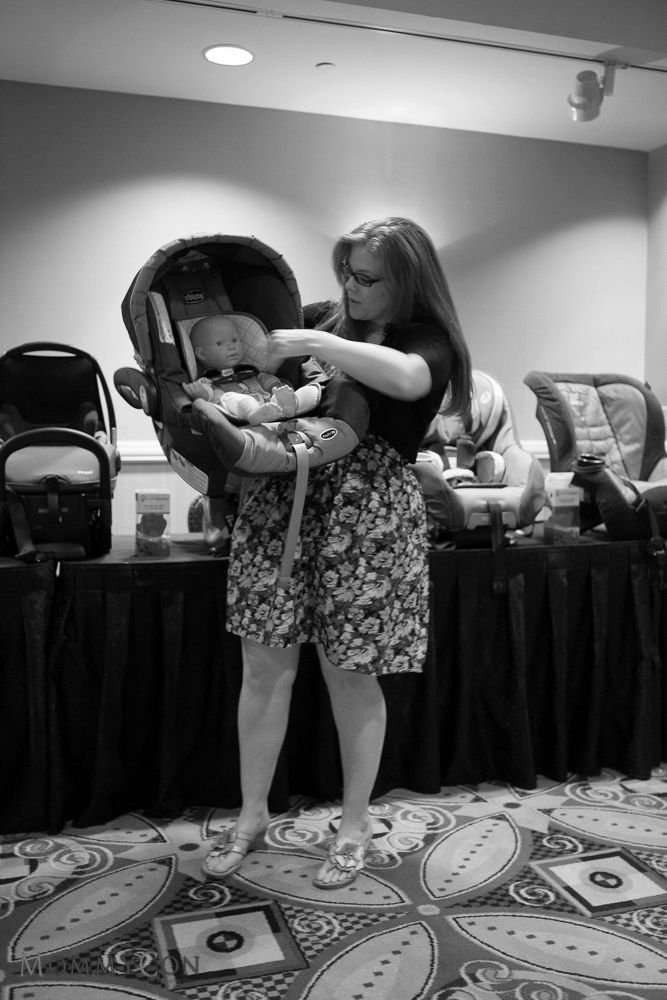 Infant Seats:
Maxi Cosi Prezi- A fantastic infant seat with an innovative and smart canopy design. Beautifully made and stylish, it comes in a wide range of colors (except no orange booooooo!). It features an anti-rebound bar which is only present in a handful of seats on the US market. It's plush interior will keep any baby comfortable and secure.
Graco Snugride 35- Graco's tried and true infant seat. One of the most popular infant seats on the market with it's amazing price point and ease of use. It also comes in a wide range of colors and patterns and fits many different strollers including some of your high end strollers.
Chicco KeyFit- One of my favorite infant seats on the market (and they have new colors!). I LOVE how easy the KeyFit is to install both with LATCH and the seatbelt. The fabric is wonderful and plush and I've seen KeyFits used across 3 kiddos and you would never know it. The thing looks brand new!
Convertible Seats:
Chicco NextFit- Oh Chicco….I love you. I really really do. I think the Chicco guy thought I was crazy because I literally hugged the NextFit and asked if he would notice if I ran out of the hotel with it. Sadly the seat was much to big for me to sneak out of MommyCon with, but you better believe I will be buying one of these bad boys when they are released. This seat is AMAZING!!!!!! The easy install alone is worth it's weight in gold! It's plush, lazy boy recliner…I wish I could ride in this thing plush. All the innovative and new features that are present in the Chicco NextFit makes my mouth water. I could seriously go on and on and on about the Chicco Nextfit at the people at my seminar could probably attest to.
Graco Size4Me- Graco's best seat to date if you ask me. This convertible is FANTASTIC….it has 2 other names depending on where you are buying it (MySize 70 at BRU and Headwise 70 at Target) and is in my opinion the best seat for extended rearfacing for under $200. It has the highest rearfacing height limit on the market and is also super plush, cushy and while I haven't tried it…I would even venture to say that this seat would fit a newborn very well. It has the premium latch connectors which makes it sure easy to install and uninstall the seat into your car. I also believe it would fit well in many compact cars. There was literally a gasp throughout the room when I raised this seat to its rearfacing height limit. It's REALLY impressive.
Cosco Apt- Best extended rearfacing seat for under $100 hands down. It will run you a cool $50 at Target and while it doesn't have some of the fancy bells and whistles of some of the more expensive brands that you'll find at Target….it can probably last longer rearfacing then they can! The rearfacing weight limit comes in at 40 lbs and while the shell isn't the tallest on the market it will last most kids rearfacing until close if not over 4 years old. It also has a 5 inch bottom harness slot which makes it a good choice for little babies as well. The Cosco Apt makes it possible to not have to spend a lot of money to extended rearface your child.
Boosters:
Clek Oobr- This is Clek's High Back Booster and let me tell you….it is AWESOME! When SquishyKid #1 outgrows the Britax Regent he is riding in now (or when it expires…which will probably come first) THIS is the booster we will be getting him. The look of the Oobr is super sleek and ultra modern. It has Clek's standard rigid latch system so there is no need to secure the booster when not in use, and it also has a recline feature which I believe is the only booster on the market to have this. The Oobr also grows with your child and the back part comes off and it eventually becomes a backless booster. How cool is that? Plus is comes in lots of great colors and a couple of the Paul Frank prints with the monkey (soooooooo cute!)
Clek Olli- I cannot say it any better then Clek does "Olli is an award-winning belt-positioning backless booster. It says to your 6-12 year-old that it's still cool to be safe in the car. Olli boosts your child's height ensuring that the vehicle's seat belt fits them just right while an additional layer of padding eliminates numb-bum syndrome. Easily transportable from vehicle to vehicle and especially handy while traveling from airport to rental car or even the taxi." It really is all that and a bag of chips for those big kids. The AAP recommend children be in boosters until 12 years old and the Olli is the perfect way to accomplish this!
Last but not least…the buckle bopper. It's not a seat, but it's a really really amazing invention. Have arthritis? Find it hard to get your child out of the carseat? Can Grandma and Grandpa not take the Grandkids because they can't get them out of their seat? This thing is made for you! It makes getting kids out of their carseats a snap and painfree!
Q & A time!!!
Q: I have a 3 in 1 car seat that is currently rear facing. It's currently using the latch system and doesn't move if I try to shift it. But what keeps it from flipping up during a collision? There is a strap coming from the top/back but I thought that was supposed to be used when the seat is forward facing. I followed the directions in the booklet but I've been curious about it.
A: Well it depends on which 3 in 1…if its the Nautilus that is a forward facing only combination seat and CANNOT rearface. You need a convertible. If it's a convertible what you are describing is called cocooning. The seats are designed to "flip up" and "cocoon" around the child to keep them safe. Only a few manufactures allow for reartethering including Diono and Britax.
Q: In infant seats should the shoulder straps originate above the shoulder and come down over it or should it be on a lower adjustment and come up and over the back of the shoulder toward the front to latch?
A: When rearfacing the straps should be AT or BELOW the shoulders. Never above.
Q: I want to know why the RFing levels are different in different countries? Are the actual seats different or is it the standards or both?
A: That's a great question…it's both! In Sweden for example kids rearface until 5 and 6 years old regularly. It is abnormal to see a child under 5 forward facing. Their seats in turn (which the majority are made by Britax) rearface to 55 lbs. In Australia Safe N Sound (also Britax) only rearface until 12 months and doesn't even specify a weight as far as I can tell. Canada has seats similar to ours and places like New Zealand has seats that I have never even heard of (some made by popular stroller makers in the US). We have different standards for approving seats which is why you see seats in other countries that we cant get here….and also why it's illegal to use carseats from other countries if you are living in the US.
Q: i would love to know a safe low cost ERF car seat that would fit into a 2 door car comfortably. and is it always a NO to buy a used car seat??
A: We'll start with #2….in general yes. You never want to buy or use a used carseat. There is an exception to every rule though….say your sister gave you a seat and you trust her that the seat is fine then it's ok. Other then that though….used seats are a no no. Question #1 I'm always asked what carseat people should buy (and I only recommend ERF seats in general unless it's a big kid and then I recommend extended harnessing seats 😉 ) and it depends on so many factors, child size/age, vehicle size and budget. You can even throw in "need to fit more then 2 kids across" in that list if you want. My top 5 seats that I recommend are the Cosco Apt from Target which is a super cheap GREAT seat for those who can't afford some of the heftier price tags, or if you just need a cheap second seat. Safety 1st Complete Air is also a great seat and comes in at under $150. The Graco Size4Me/My Size/Headwise 70 would be your mid grade seat. It's under $200 (the Headwise is just at $200 I believe) but has a lot of the great features as the big guys without the big price tag. The next step up would be the Chicco NextFit, Diono's and Peg Perego…they all range from $270-$330ish and all have varying features that make each a desirable pick for your specific needs. At the high end there is Clek Foonf. Which is their new convertible that rearfaces to 50 lbs and has an innovative technology foward facing that reduces injuries to children by up to 40%.
Q: I have Houdini reincarnate…how do I stop my child from undoing themselves once they are old enough?
A: Some manufacturers have fixes for this. Call them, sometimes they have an added piece available that they can send you (and usually for free). If they dont, you can try a baby sock with the toe snipped off and snap it inside. Or if your child is 40 lbs or under you could try the Kiddy World Plus. It's a no harness seat (that is just as safe as a harness seat). No clip to worry about and there is no way they can unbuckle themselves. It's also a really amazing seat for children who have sensory issues surrounding harnesses (stay tuned for a future review AND giveaway about the Kiddy World Plus).
Like us on Facebook: https://www.facebook.com/themommydialogues
Want to come to one of my Seminars at a MommyCon Mini? Keep checking back for events possibly in your area: http://mommy-con.com/
Like MommyCon on Facebook: https://www.facebook.com/tmdmommycon?ref=ts&fref=ts