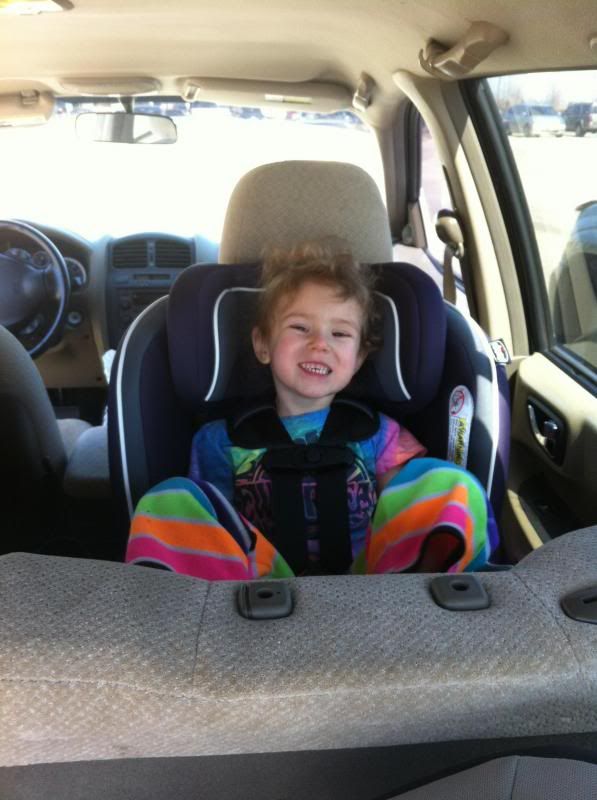 IT'S MMMMMMMIIIIIIIIINNNNNNNNNEEEEEEEEEEEE!!!!!!!!!!!!!! Imagine me screaming this while jumping up and down with joy and fist pumping the sky like Rocky.  That was me yesterday when I got this sweet little baby at Babies R Us. I couldn't even wait to get out of the store to get my hands on this thing.  I ripped into the box right there and carried it out to my car and installed it that second.  Now I need to convince Mr. Squish to let me buy 3 more to replace the Scenera in my Sante Fe and the 2 Radian's in the Swagger Wagon.
This isn't an official review of the Chicco NextFit, but it's just to amazing for me to not post about.  Anyone who heard me speak at MommyCon Vegas  (or knows that I am alive) knows I am completely infatuated with this seat.  I salivated over this carseat for MONTHS and nearly cried when it was released EARLY!  In the carseat world that's like a miracle when a carseat is released on-time let alone early.  I was… suffice it to say, ecstatic.  The only time I had the pleasure of installing this seat was at ABC last year with Xza, and it wasn't even in a real car at that time.  Just a demo seat, so I was super excited to install it in my own car.
Ignore the sour puss that The Girl is wearing (she loves her seat…although not as much as her pink seat which she will gladly tell you about), this thing is a DREAM to install.  Mr. Squish even installed it and said "Holy Crap" when I said "it's installed", after he pulled the #2 latch strap with 1 finger.  The leveling system is easy to work with….and if you can't install this seat right with latch I'm not sure how your able to feed yourself 😉 it's THAT easy.  Seriously!  It fits well in the Sante Fe which is it's new home.  The passenger seat is approximately 1 click from being all the way back in the 2nd recline position.  I think I'm even going to name it Wanda because I love this thing so much…and Wanda seems like a pretty rad name.  The color is a much different purple then I expected (I also thinkg the purple is only available at BRU).  It looked much lighter in pictures, but it's a pretty deep purple. I love the shoulder straps.  They remind me very much of the shoulder straps on the Swedish Britax seats with their grippy stuff.
Unlike other people, I don't really mind that the straps can't be replaced.  I've never had to replace a carseat harness…and if I did, ummmmm well… I would probably use it as an excuse to buy a new carseat anyways BAHAHAHAHA, but seriously I totally would.  Also according to the Chicco lady from the Webinar I attended last week (the lovely Julia who I previously met at ABC and am pictured with in this post HERE) the straps can be totally soaked and scrubbed thoroughly with a cleaning brush so if your kid projectile vomits…you can get that shit clean!  I have also seen quite a few complaints about the straps being to close to the neck for older kids in the rearfacing chest clip position.  Does that tiny clip look strange on my 5 year olds chest?  YES….do I think she's bothered by how close the straps are to her neck?  No.  I've thought about moving it to the second position….but as it's not been tested that way rearfacing I am hesitatant (Chicco if you are listening….extended rearfacers are MANY….test those seats rearfacing with the clips in the forward facing position THANKS).
Now that I've had my kid in it, I have to say the harness is a bit hard to tighten (still easier then the Diono's, but less easy then Britax), and I can't do the reach behind and grab the harness manually and pull the tightening strap at the same time, the button is also hard to push when installed.  For smaller kids the chest clip is actually going to go over the shoulder strap covers to be properly positioned…you have to push those things back well, even with The Girl to get them far back enough for the chest clip to be right.  The chest clip looks ridiculous on Seven.  Seriously, I know it doesn't matter and that it's just a pre-crash positioner and blah blah blah…. but does that small clip not ridiculous on bigger kids?  I also really wish I could utilize more of the reclines positions in the Sante Fe.  I can use 1 and 2 and that's it.  I wish I could use 3 or even 4, and then I could get the passenger seat all the way back.  That would be super awesome.  This weekend I am going to give it a go in the Swagger Wagon and see how it does.
In conclusion.  I still freaking love this seat after real world use.  Like big red puffy hearts…..go out and buy this thing right now love.  Seriously though, go buy one.
Like us on Facebook: https://www.facebook.com/themommydialogues
Want in person carseat help, or want ME, yes ME to install your seat?  Come to MommyCon: http://mommy-con.com/
Like Chicco on Facebook: https://www.facebook.com/ChiccoBaby?ref=ts&fref=ts
Tags :
Alyssa
,
best seat ever
,
car seat
,
car seats
,
carseat
,
carseats
,
chicco
,
Chicco Nextfit
,
Featured
,
nextfit
,
the squished hippie