These are just some of many facts that illustrate the advantages of keeping your child rearfacing for as long as possible.  The AAP recently changed their recommendation to say that "Toddlers should remain rear-facing in a convertible car seat until they have reached the maximum height and weight recommended for the model, or at least the age of 2. ".  Yet even with this new recommendation from an organization that MANY people take so many of their parenting cues from, and seeing the stats like those listed above and more….they are still choosing to turn their children around at 1 year or even before.  What is it going to take?  The law changing for people to wake up?  Should we really be waiting for a LAW to be put in place to ensure that our kids are as safe as possible in a giant metal death trap?
Car accidents are the leading cause of death to children in the US.  Is anyone listening?  THE LEADING CAUSE OF DEATH TO CHILDREN IN THIS COUNTRY.  In Sweden where rearfacing to 4 is the norm…..child death, due to car accidents is unheard of.  In a 10 year span (I believe it was from 96-06) there were 6 child deaths due to car accidents….and all were catastrophic accidents where EVERYONE died.  That's it….6.  Not thousands, not even hundreds…..6.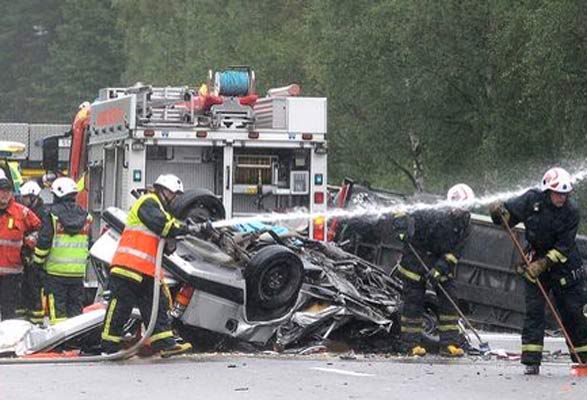 This is an image of a recent accident in Sweden.  That is the back of the car facing us. The car hit a bus head on after swerving into the oncoming lane of traffic.  Everyone except the rear-facing child in this car died.  If that isnt a powerful image I dont know what is.
Children's spines do not even begin to ossify until between 4-6 years old and continue well into puberty.  What does that mean for car accidents? Basically the neck vertebrae of a young child is very delicate due to the whole neck area being underdeveloped.  When a baby is born, neck vertebrae is "composed of separate portions of bone joined by cartilage, in other words, the baby's skeleton is still soft". The cartilage turns into bone during the 4-6 years of a baby's life.
Am I bit of a carseat nut?  Absolutely I am.  I'm that crazy lady who goes up to strangers and fixes the straps on their babies carseats so they are correct, and tells other parents not to put the carseat on the top of the cart while at the grocery store.  I'm that psycho whose 4 year old is still happily rearfacing and who's 6 and 8 year old are both in 5 point harnesses and who messages old classmates because i saw a picture of their kid incorrectly strapped in to their carseat on Facebook.  I'm that insane nutjob sitting next to my husband screaming at the TV because Amber or Leah or really any of the Teen Moms are putting their children in serious harms way by their lack of proper carseat safety.  Hell I even went off on Caillou's mom the other day for not having Rosie or Caillou in proper carseats or strapped in correctly.  I fully admit that I am a total carseat nutjob complete with 8 carseats to prove it.  I know that, and I'm ok with that.  If just 1 child is saved by my ranting and raving about how much safer rearfacing is….. it will have all been worth it.