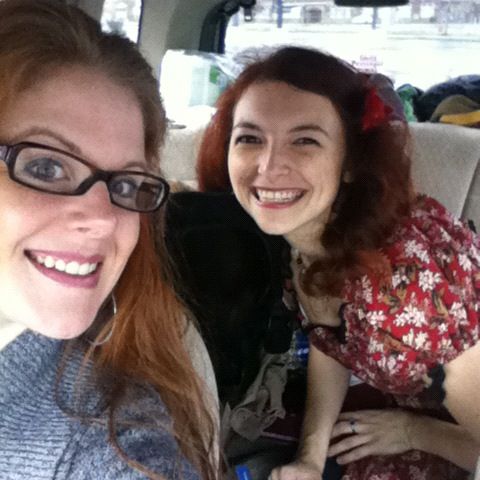 ABC Expo was awesome….Xza and I (and of course Atticus) had a great time checking out all the cool stuff, and of course I was super excited to check out all the new carseats coming our way in the next year (and boy oh boy is there some great stuff in store for this year!).
We also made some new friends….Jessica from the Leaky B@@b (YOU'RE A CELEBRITY!)
and a personal idol/hero of mine Julie….who helped to write the curriculum for Safekids CPST certification way back before CPST's even existed.  She's one of the original CPST's!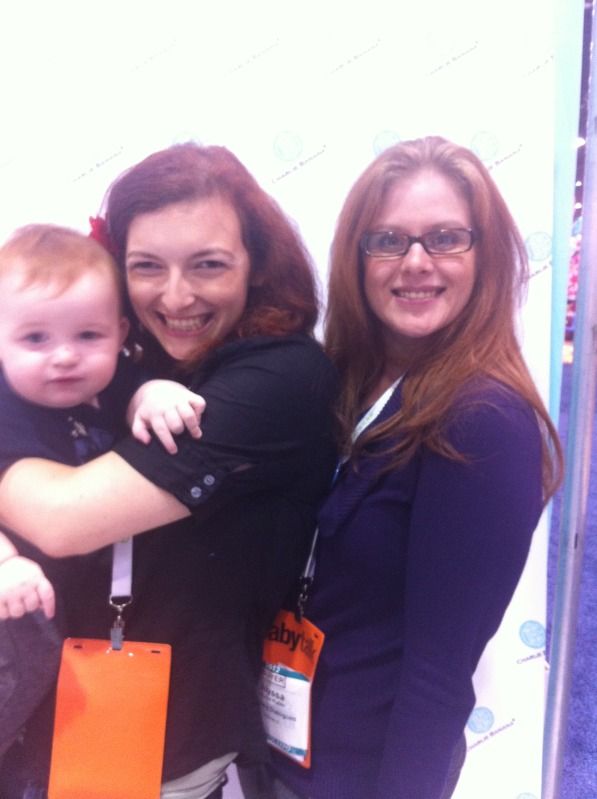 The 3 red-heads!!!!!
and now for what your all here for…..drum roll if you please!
#1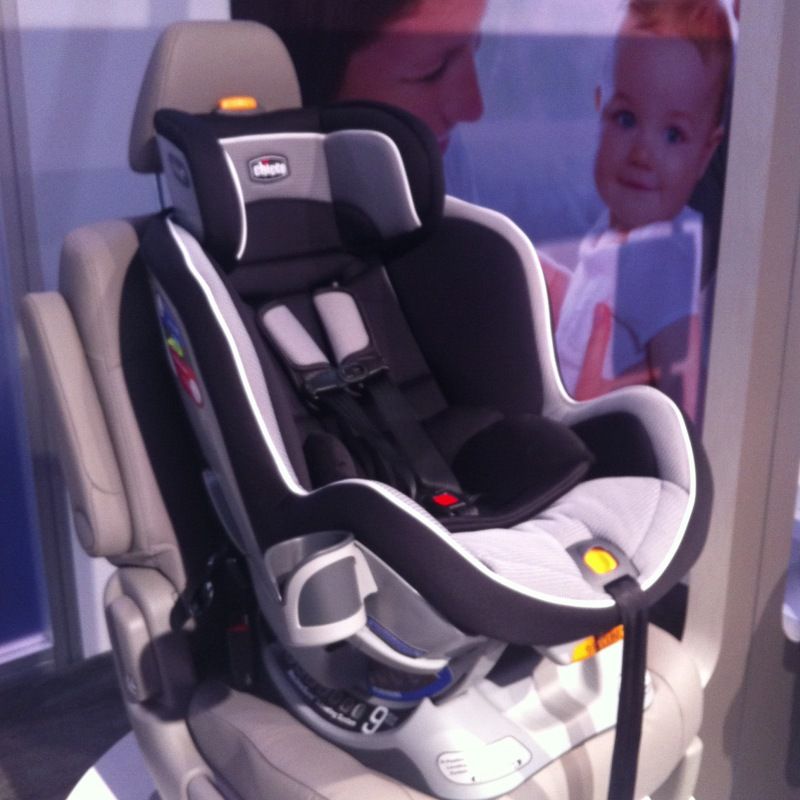 Chicco NextFit 65
O.M.G do I love this seat.  I mean LOVE LOVE LOVE, gotta have in my possession, NEED this seat right this very minute love.  It's simply amazing.  Like it's infant counterpart the KeyFit, this seat is SUPER easy to install…their new LATCH system on the NextFit makes the LATCH install completely idiot proof.  Long gone are the days of sitting in your child's carseat to get that sucker in good and tight.  No need for that with the NextFits super easy LATCH install.  Xza did it and she's carseat illiterate!
Next is the 9 recline positions…yes you read that right 9 RECLINE positions in this bad boy. Not only does it have 9 recline positions but it has levels on each side so you are no longer guessing if your seat is at the correct angle or not.
The harness….OH THE HARNESS, not only does it offer a tall top slot of 17.5 inches but the bottom harness slot is 5.5 inches which means even a newborn (and possibly even a preemie) can fit into this seat easily….but WAIT!  Not only can the harness accommodate a child rearfacing for a VERY long time and allow a newborn to ride in it also…but the harness actually changes in width!  When the harness is in it's lowest setting, the straps are width appropriate for a newborn.  Something which I have seen be an issue with many convertibles…but when the harness is raised it widens the higher it goes to accommodate the broader shoulders of older children.  Not only does the harness widen but the chest clip does as well!  The chest clip has 2 width settings for when you have those older kids in the seat.
Although I didn't have a tape measure handy I would venture to say that the NextFit might also be the leader for top rearfacing height.  It allows for rearfacing until the head is 1 inch from the top of the headwings when fully extended.  When the seat is on it's lowest setting it is no bigger then it's infant counterpart the KeyFit.
Specs: Rearfacing from 5-40 lbs…..Forward Facing from 22-65 lbs….Approx $$$$- $279-$299….Release date?  Spring
#2
Uppababy Mesa
For all you pregnant mama's out there…..the Uppababy Mesa is the new kid on the block.  With it's plush seating and RIDICULOUSLY easy install this infant seat is a force to be reckoned with.  I'd love to be pregnant just so I have a reason to buy one of these seats……AND it comes in orange!  Woo hoo!
Some of the awesome features of the Mesa is the new ratchet LATCH install system.  Simply push a button, connect the LATCH connectors on the seat to the LATCH connectors in your car and push down firmly on the base and VOILA! Seat installed.  Idiot proof!
httpv://youtu.be/jm80t28aMeI
Thanks BabyGuyNYC!
The Mesa also tells you when your seat is installed correctly (both LATCH AND the seatbelt) by a little indicator on the top that turns green when you have tightened it down enough for a proper install. The seat can also be installed baseless and also has a European install option which I really really love.  It will fit on the Vista and Cruz stroller with a 1 touch release button on top of the handle for all those who may be wondering….super easy and effortless.
The canopy is also 50+ SPF which is awesome…there is also a bug net/paparazzi shield attachment that is available as well.
Specs: 4-35 lbs….would fit a preemie easily…Approx price $279….Approx release? Spring
#3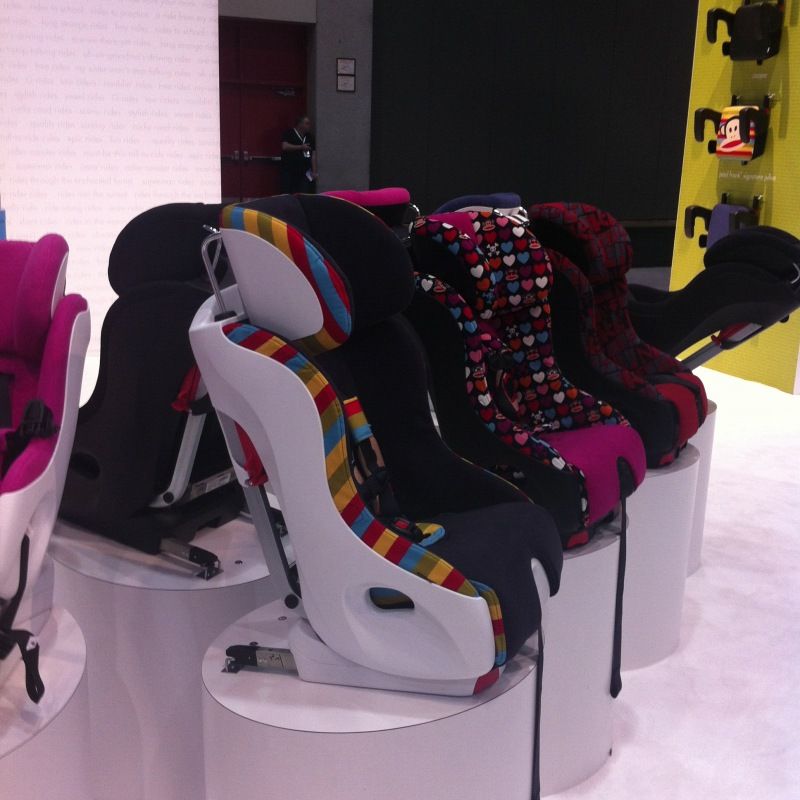 Clek Foonf
What can I say that hasn't already been said about Foonf (Xza talks about Foonf in a previous post here)? It's an amazing seat.  At the ABC Expo it was announced that the weight limits for rearfacing had been raised…it now rearfaces to a whooping 50 lbs (holy crap!) and starts at 14 lbs….YAY!  The bottom harness slot is 10.5 inches and the top slot is 17.5.  It goes by the US rule of top of the head 1 inch from the top of the shell.  It is super easy to install both rear and forward facing and has an added "wedge" that is used in the rearfacing position.
The new colors were debuted at the show….pink on black and black on black.  I really like the black on black.  Totally sleek.
Specs: Rearfacing 14-50 lbs….Forward Facing 22-65 lbs….Cost$$$$-$479-$500….Release?  Couldn't get it out of them 😉
and coming in a very close #4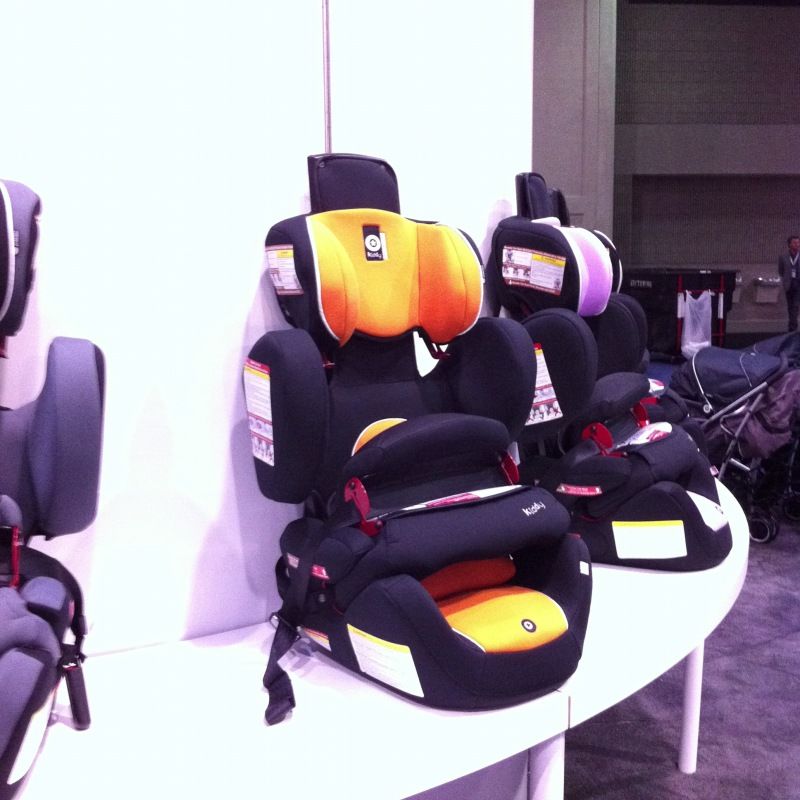 Kiddy World Plus
I know I said top 3 new seats….and I know (now) that the Kiddy isn't a new seat, but it's new to me and so I need to add it.  The Kiddy World Plus is super cool!  When I saw it at the show the first 5 minutes we were there, I literally dragged Xza over to look at it because I was intrigued.  This is what is called a shield seat.  There is NO harness, the shield is held in place by LATCH or seatbelt and acts as the harness would.  The shield goes to 40 lbs and then it boosters after that.  Kiddy touts this seat as a great option for special needs children with sensory issues pertaining to being held down by a 5 point harness and who are to young or to small to be in a booster seat and are forward facing.  Stay tuned for future posts on this super awesome carseat!
Like us on Facebook: https://www.facebook.com/themommydialogues
Vote for us (once every 24 hours) on Top Baby Blogs: http://www.topbabyblogs.com/cgi-bin/topblogs/in.cgi?id=themdi
Vote for us on Circle of Moms Mompreneurs: http://www.circleofmoms.com/top25/Top-25-Mompreneurs-2012-2012?trk=t25_Top-25-Mompreneurs-2012-2012
Like Clek on Facebook: https://www.facebook.com/clekinc?ref=ts&fref=ts
Like Uppababy on Facebook: https://www.facebook.com/UPPAbaby?ref=ts&fref=ts
Like Chicco on Facebook: https://www.facebook.com/chiccointernational
Like Kiddy on Facebook: https://www.facebook.com/kiddyusa?ref=ts&fref=ts
Like TheBabyGuyNYC on Facebook: https://www.facebook.com/TheBabyGuyNYC?ref=ts&fref=ts
Tags :
ABC expo
,
abc kids expo
,
abckids
,
Alyssa
,
car seat
,
car seats
,
carseat
,
carseats
,
chicco
,
cleck
,
Featured
,
Foonf
,
kiddy
,
leaky b@@b
,
mesa
,
nextfit
,
the squished hippie
,
thebabyguynyc
,
uppababy
,
world plus