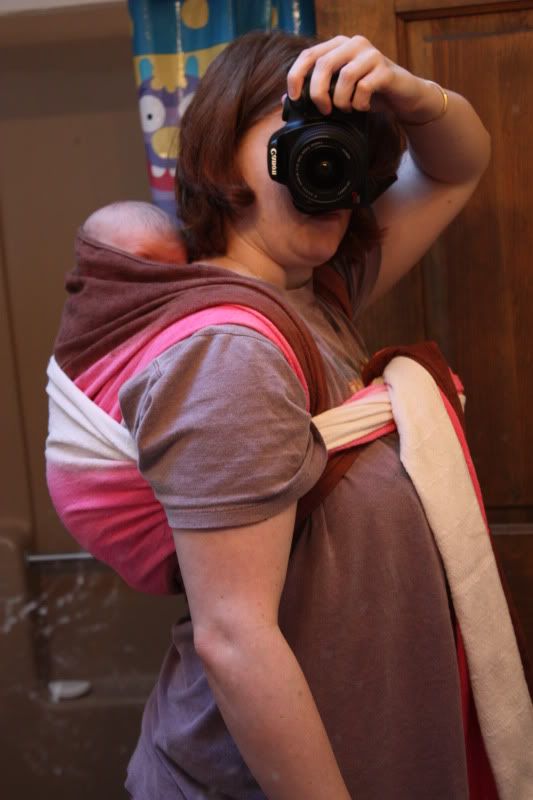 The secure high back carry is the perfect back carry for a newborn baby.  It keeps them up high like you want and is a fairly quick wrap.  If you are not an experienced babywearer, DO NOT ATTEMPT to put a newborn on your back.  Back carrying with a newborn is not for novice babywearers and takes a great deal of practice and skill to pull off safely.  You should also NEVER attempt a back carry with a stretchy wrap as a rule of thumb.  The wrap featured in the picture is a Didymos 1st release silk Indio that I had hand dyed to look like Neapolitan ice cream.
A tip for new back wrappers: Use a gallon of milk to practice with.  It is an awkward shape but you will get the REAL weight of a baby and what it really feels like.  Also when learning to back wrap, do it on your knees on a bed, couch or the floor.  By doing this, if for some reason you drop your kid they dont have far to go and/or will be landing on a soft surface.
httpv://youtu.be/e1lmPSxLuWg
Again, the same wrap is being used in the video.
Where to buy a Didymos: http://www.birdiesroom.com/c-395-baby-slings.aspx Birdies Room is located in Canada, so it can take up to 14 days to receive your wrap because of customs and such….but they have the largest selection of Didy's available in North America and Barb (the owner) is such a sweetheart.
Happy Babywearing!