I just want to take a minute to thank my blogmates for being so patient with me this month as we moved into our new house, got settled and started remodeling our new home.  I am finally getting back into the swing of things, and have everything put away just how we like it.  I am really starting to get into this homeownership business and have been getting down and dirty with making this home my own.  I've never been able to really make a place "mine" since we've always rented, and I am having such a good time watching HOURS of DIY network and looking at home renovation blogs.  I want people to walk into my house and say "Wow your house is awesome!"
This week my parents came to stay with us with their 2 little yorkie dogs, driving all the way from WA state to WI.  They were just here 2 weeks ago, but decided to come back and help us do some renovation projects as a housewarming gift. They started with our kitchen and tiled us a gorgeous new back splash that has a raw stone look to it.  I questioned my choice of tile for the kitchen until literally the minute it went on the wall, but I am so glad I didn't wuss out and let my dad talk me out of it.  It is gorgeous, and it really gives us the look I was going for in there.  Kind of a rustic, cabin vibe.
They quickly moved onto the kids bathroom and tiled the walls in there, complete with gorgeous glass accent tiles.  This is all my step-mom…she did all of this on her own.  My Dad is only here to cut the tile…she has laid every.single.piece.  She's a machine and amazing at what she does.  I cannot thank her enough for all the work she is doing to make our house into a home, and to make this home everything we dream of.
In addition to this, tomorrow they are going to start on tiling our bathroom (which I think is going to be my favorite room) and tiling the laundry room.  My dad also helped me with my own DIY project, that involved turning my twisted metal bouquet from my best friends wedding into a recessed light turned pendant light above my sink.  I am so pleased with how that turned out, even though it was a GIANT PITA.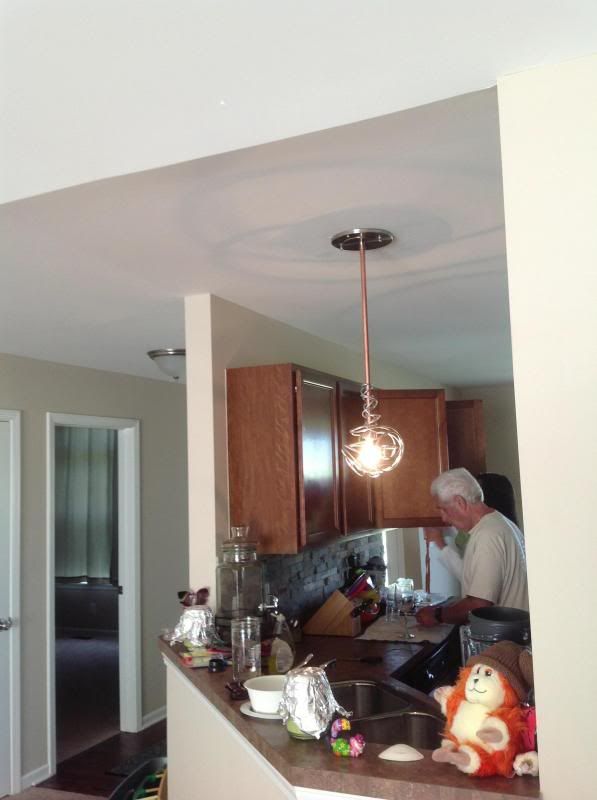 I will also have a new bed (that Mr. Squish and my dad built and I painted), and I am going paint crazy in every room with BRIGHT bold colors.  Including painting my closet ORANGE!  The house is really shaping up to be exactly what I want.  I am so happy and proud to share all this with you…more to come!