A couple weeks ago, I had the honor of being asked by Graco to make a video for their Buckle Up for Safety Pledge.  I am still in shock that they asked me…ME to make this video out of all the carseat advocates out there.  I still feel like a nobody, so for Graco to ask me to do this made me feel like a somebody…and not just a little somebody, but a BIG somebody!  Way to boost my ego Graco!
httpv://youtu.be/ycDxdrtGFVE
For my video Graco sent me 4 carseats that were filmed in the video.  As a gift, Graco let me keep 2 of the seats, and asked that the other 2 be giveaways.  1 for The Mommy Dialogues and 1 for MommyCon.  So for all you reading this you will have a chance to win 2 Graco seats.  The Graco MyRide 65 DLX and the Nautlius Elite….keep reading to find out how!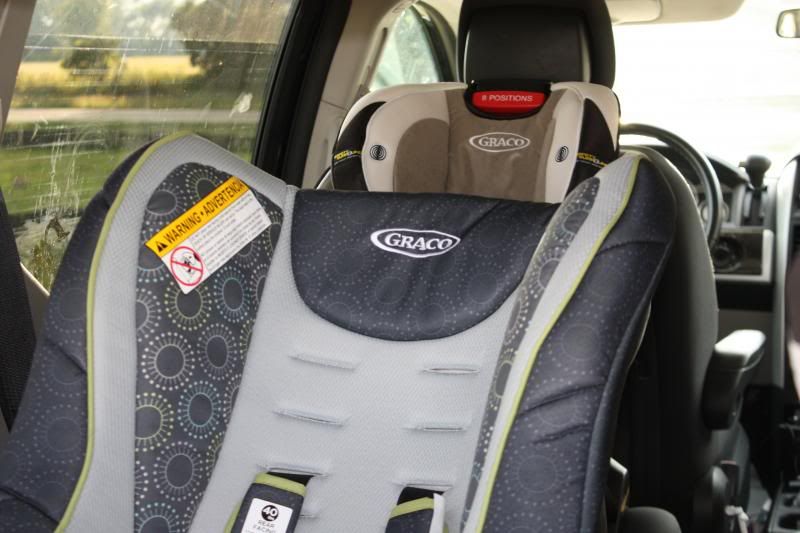 What can I say about the MyRide besides that I love it!  While it isn't the longest rearfacing seat out there (the shell isn't super tall), it will still keep the majority of kids rearfacing until pretty close to 4 years old.  It rearfaces to 40 lbs or until the top of the head is 1 inch from the top of the shell and then forward faces to 65 lbs and until 50 inches or until the top of the child's ears are even with or below the top of the shell.  It is a fairly large seat…not as large as some, but larger then others.  This seat probably won't fit in VERY small cars.  The install is very straight forward.  It did require a rolled up towel to get the angle right in the 3rd row of our minivan.  It comes equipped with a ball level, so you know when it's installed at the proper angle.  It also has some really great inserts for younger smaller babies.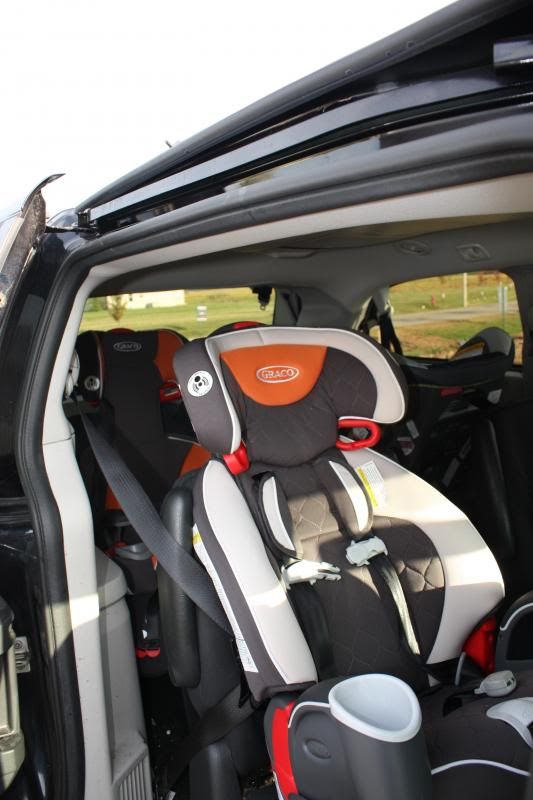 The 2nd seat is the Nautilus Elite.  As you can see it comes in orange so you know I already love it…but besides that the Nautilus is a wonderful combination seat.  Its a 3 in 1, so it goes from a 5 point harness to a high back booster, and finally to a low back booster, all in 1 seat. It harnesses to 65 lbs and 52 inches or until the shoulders are at or below the top harness slots.  It then boosters to 100 lbs and 57 inches in both the high back and backless booster mode.  It's also a very easy install. This seat comes equipped with lock offs, which I have to say I really love.  It fit nicely in the Captains chair in my van and while my (almost) 8 year old was in the top harness slot, he still had probably another year left in this seat…and it's ORANGE!
Take the Graco Buckle Up For Safety Pledge yourself…and enter to win these awesome seats!
Pledge here! http://bit.ly/17VlfJx
For the Graco MyRide 65 DLX Giveaway with MommyCon
a Rafflecopter giveaway

For the Graco Nautilus Elite Giveaway for The Mommy Dialogues