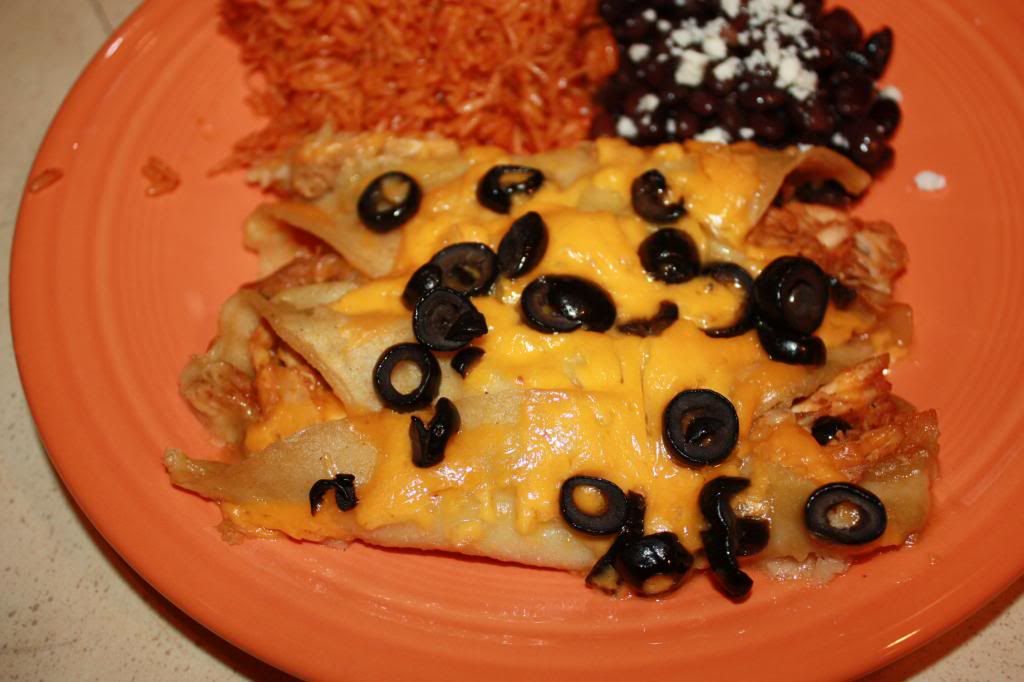 Like many of my recipes, this enchilada recipe comes from my Dad.  These enchiladas are Mr. Squish's favorite, and unfortunately for him, I don't make them very often because the kids hate them.  They are also an EXCELLENT freezer food that can be premade and frozen and heated in the oven for an easy no fuss dinner.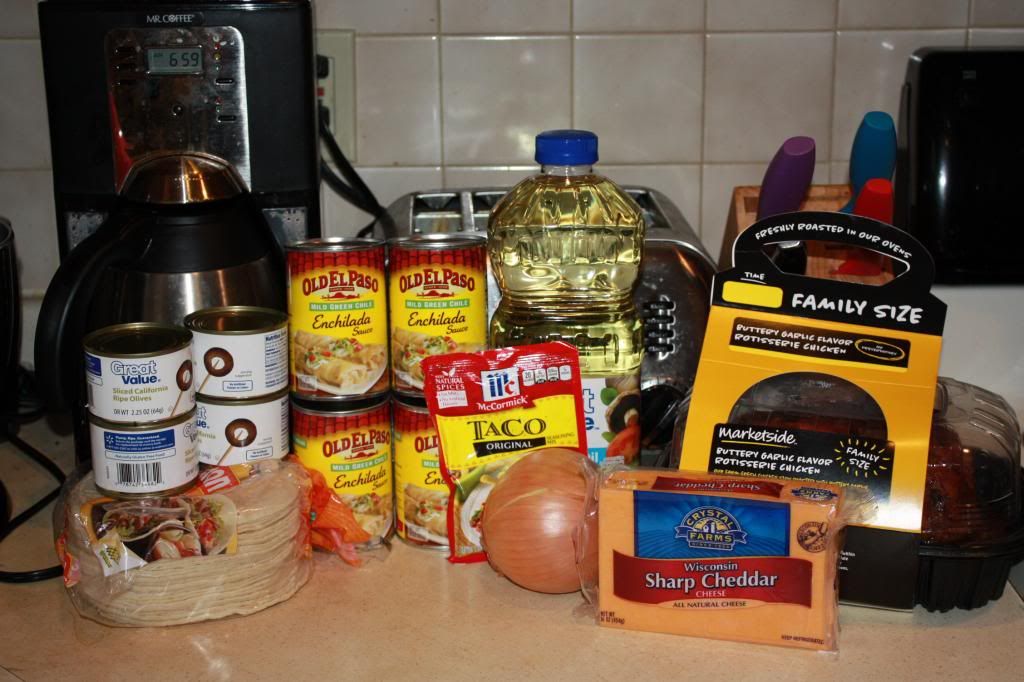 What you need……corn tortillas, enchilada sauce, sliced olives, onions, cheese, taco seasoning, vegetable oil and roasted chicken
We are going to start the filling of the enchilada by shredding up your ENTIRE chicken.  I make it easy on myself and buy a pre-made roasted chicken at Walmart but you can roast your own chicken….or even just use 3 or 4 boiled chicken breasts.  Also preheat your oven to 350 degrees.
Chop up 1 large onion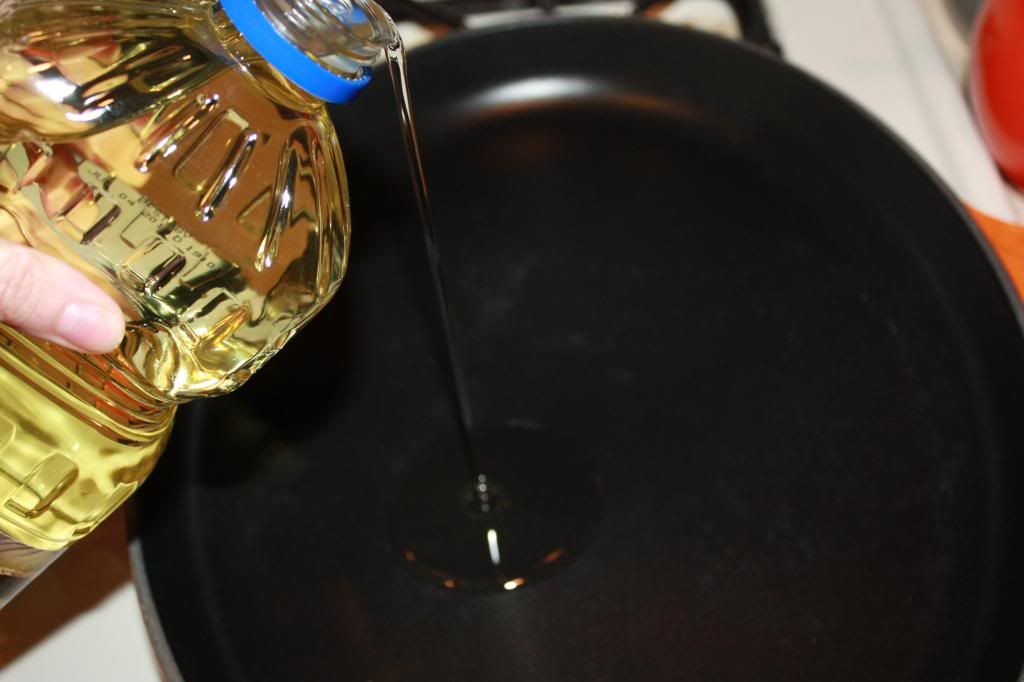 Add a couple of tablespoons of vegetable oil to a large skillet and the burner to medium
Throw your onions into your skillet with some salt and pepper and saute them until they are soft
After your onions are good and soft throw your shredded chicken into the mix
Add as many sliced black olives into your pan as you like (or omit them) and give it all a stir
Add about 1/2 of a can of enchilada sauce to your filling mix.  I personally am not a spicy fan, and I don't like red enchiladas so we use a mild green enchilada sauce.  Give your mixture a good stir to incorporate all your ingredients well and let it heat up a bit.
The last step in the filling is to add in Taco seasoning.  I use the Mc Cormick original taco seasoning and use about 3/4 of the package.  You can use as much or as little as you want.  Stir it up well so you don't get little clumps of seasoning.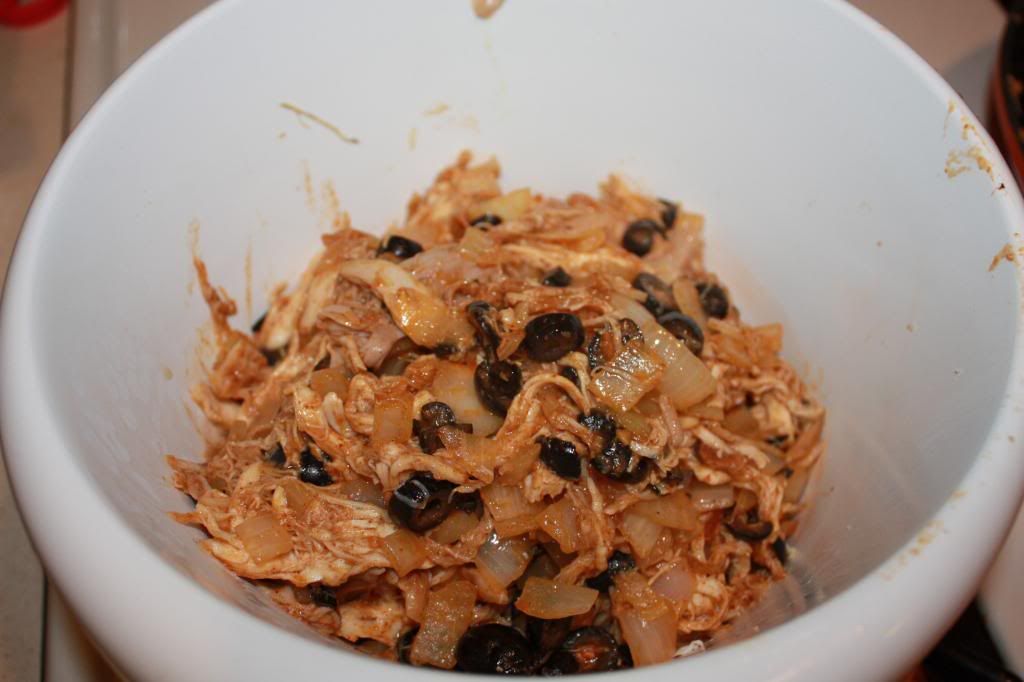 Dump your filling into a bowl and set it aside
Now comes the process of making the enchiladas.  What you'll need is 2 pans…1 filled with vegetable oil that is on medium heat and 1 filled with 2 cans of enchilada sauce heated until bubbling and then the heat reduced to low (I would put them on the 2 front burners with the oil being in the pan farthest from you…you'll see why in a minute).  Tongs and a plate to roll the tortillas and toothpicks if you want the enchiladas to hold their shape.  I also have everything I need in a line so I can just go down the line…fill the shells and then roll up the enchiladas.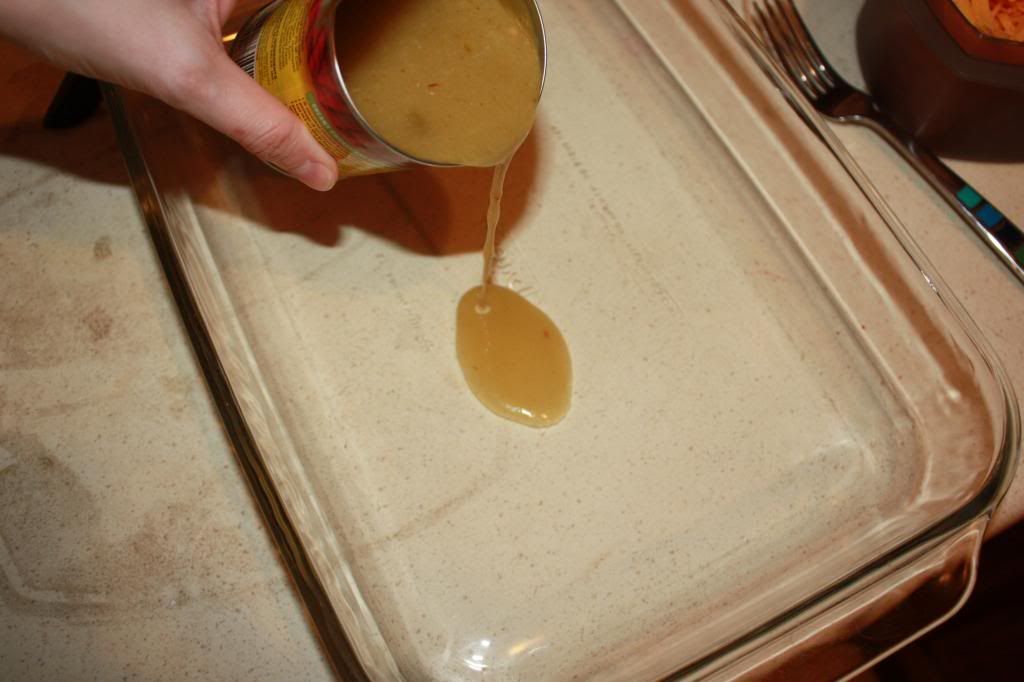 Spread some enchilada sauce into the bottom of the pans your using.  This will ensure that the enchiladas don't stick to the pan
Now comes the tricky and tedious part, it also needs to be a fairly quick process or your enchiladas wont turn out….ignoring the hot mess that is my stove, you are going to "fry" your tortillas in the oil.  You DO NOT want them to get hard and crispy or it's not going to work.  A couple of seconds is all you should need on both sides.  If when you go to roll them, they start falling apart you fried them to long.  It's a trial and error thing.
Immediately after you fry the tortillas they are going to go straight into the hot enchilada sauce.  Get both sides really good with the sauce and then they are ready to roll…literally
Put your shells onto a plate and add your filling mixture down the center.  Don't add to much or you wont be able to roll them.
Add some cheese….we use sharp cheddar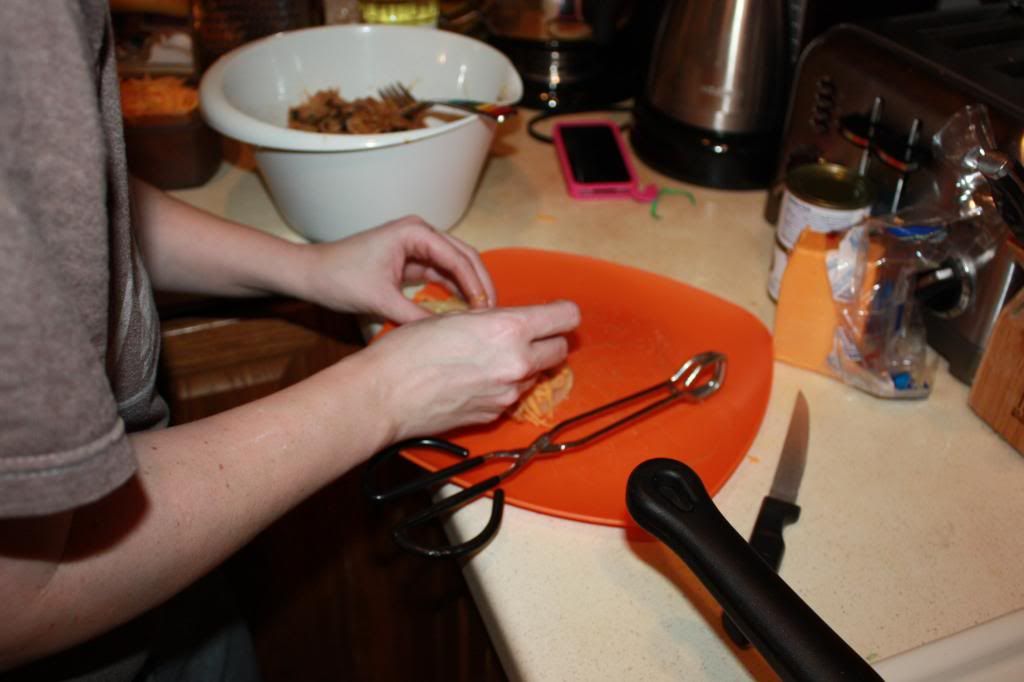 Roll it up and secure the top with a toothpick
Continue the process and line them up in rows into your pan
At this point if you want to make them into freezer food, cover the pans with saran wrap and then foil (the throw away disposable pans work REALLY well for this) and pop them in the freezer.  When you are ready to eat them, just heat the oven to 350 and they will need about a good 45 mins-hour or so to cook…then follow the rest of the process as normal.
Pop into your 350 degree oven for 20 minutes
Top with more enchilada sauce.  Don't drowned them in sauce.  This is a 13×9 pan and I used just 1 can for the entire tray.  You can also use the sauce during the frying/dipping process as well to go on top.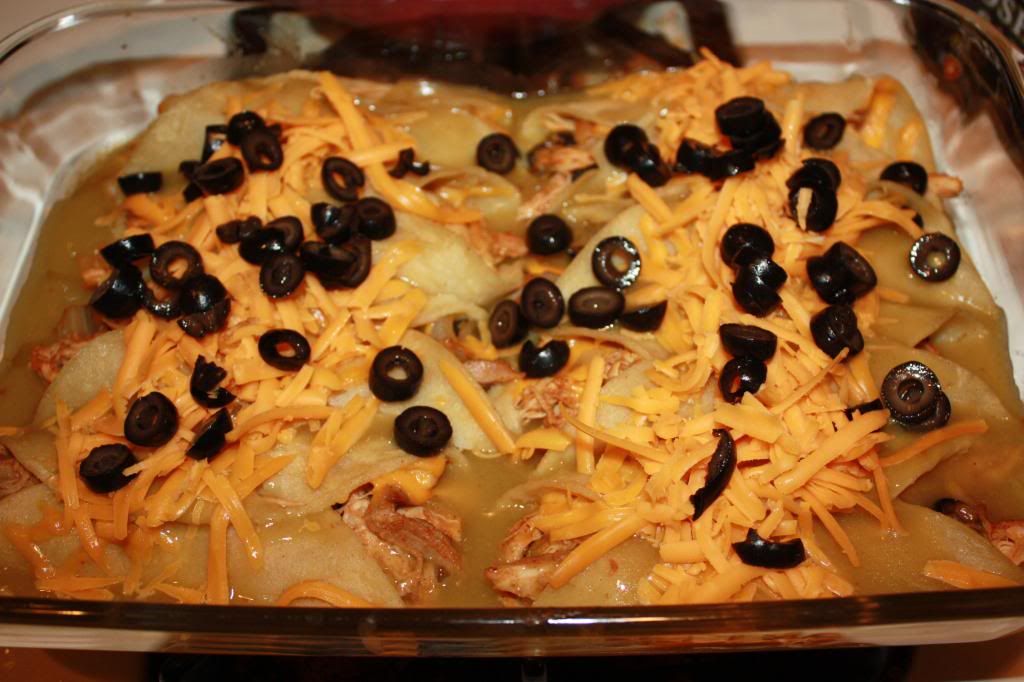 Top with cheese and olives (if you want) and put it back into the oven for 15 minutes or so.
Serve and enjoy!  We like to do the whole rice and beans things with these.  If you want some extra oomf crumble up some queso fresco on top as well.  Yummmmmmmm
Like us on Facebook: https://www.facebook.com/themommydialogues
Want to try to bribe me to cook for you in person?  Come to MommyCon: http://mommy-con.com/