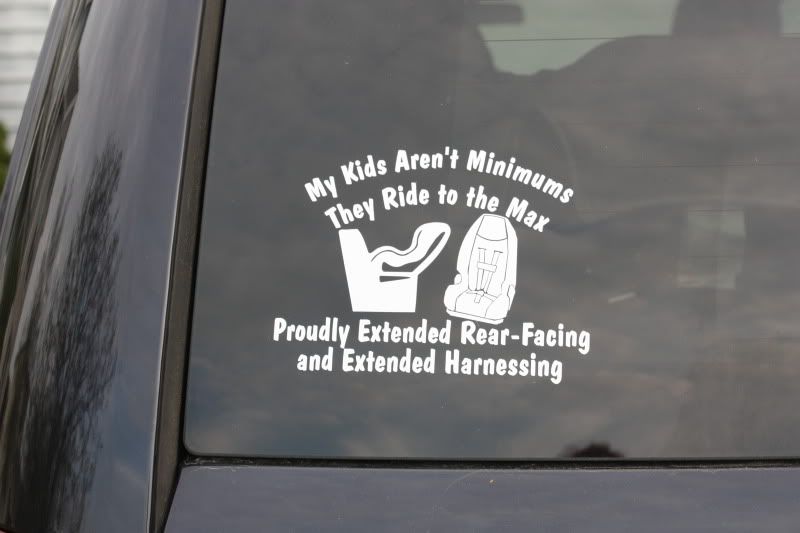 If you know me, or read this blog regularly you know I'm a crazy carseat lady.  So when I saw the great decals that Educated Mama Decals makes for extended rearfacing and extended harnessing I just had to have one.  They have many different types of decals, ranging from Breastfeeding to Doula decals as well as many extended rearfacing and extended harnessing decals in addition to custom decals as well.  When I placed my order, it was estimated to arrive in the mail between 7-10 days.  14 days later I still didn't have it, so I e-mailed Laura at EMD to let her know I hadn't yet received it.  She was very gracious and apologetic about me not receiving my decal even though it had been sent almost 2 weeks prior.  She remedied the situation immediately, and sent me another one at no cost to me right away. I received the decal 2 days later and was so pleased with not only the quality of the decal, but the AWESOME customer service I experienced with Educated Mama Decals.
The decals are great quality.  They stick to the outside of your window, and are heavy duty so they wont be falling off of your car easily.  I was worried about the size of the decal due to the placement of our back wiper, but it fit perfectly on the back window and doesn't interfere with the wiper at all.  It's very easy to stick on your car, and comes with clear and precise instructions for applying it to whatever surface you plan to stick it on.  It took less then a minute to get it on the window and once it's on…it's not going anywhere.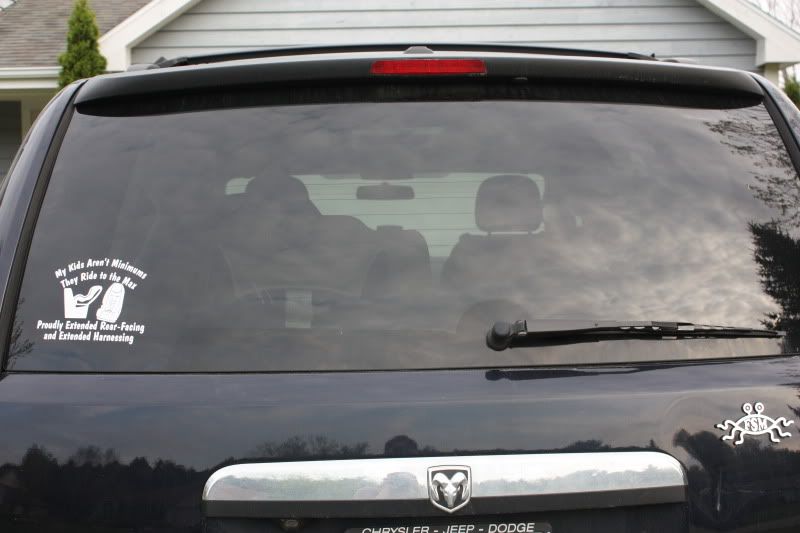 As you can see it's not a GIANT in your face decal.  It's large enough to be visible and readable, but not so large that it will interfere with your driving ability.  Overall I am very pleased with Educated Mama Decals, both for their product and their amazing customer service.  I highly recommend them if you are looking for decals for your car to show off some of your ideals.
Here's how to win this Extended Rearfacing Decal for your very own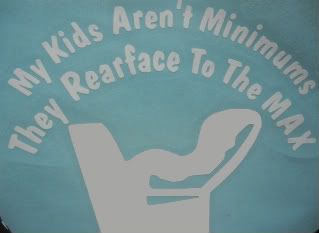 To enter to win, simply leave a comment on this post.
Want 4 more ways to win? All you have to do is:
*Follow Educated Mama Decals on Facebook

*Follow The Mommy Dialogues on Facebook
*Follow The Mommy Dialogues on Twitter
*Subscribe to The Mommy Dialogues blog
Remember: Leave a separate comment telling us you did each of these things for FOUR separate entries! And that's it! I hope you win! But either way, be sure to head over to Educated Mama Decals shop and have a look around. You may just find something else you want to display on your car!
*As always, we at The Mommy Dialogues are never paid for our reviews or opinions. The opinions expressed in this review are purely my own.