So I'll be upfront and tell you this isn't a comprehensive list of all booster seats.  In fact I am really only going to focus on High Back Boosters (and a couple neat options for travel and for BIG kids and adults)…because to be honest, while I do have a 10 year old I have no real expertise in no back boosters.  I've never looked into them, I've never thought about buying one and my 10 year old is still YEARS away from outgrowing the high backs so it's not been something I've ever actually researched.  So if your looking for some good no back options this list isn't really going to be for you.
Booster Seats:
#1 Clek Oobr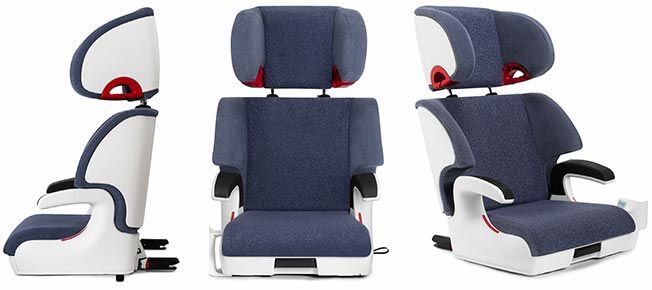 Pros:
-Made with Clek's SUPER AWESOME Crypton Fabric that is antimicrobial and stain resistant.  Kid drops a slushy? Wipe it off with a damp cloth and your good to go
-This booster has a true recline feature for sleeping children.  This is a great feature to keep big kids a bit more comfortable, but it also can help with fit issues as well.  In cars with stationary angled headrests it can sometimes make seats, especially boosters sit wonky or push them forward and into a weird position.  The recline on the Oobr allows for the seat to gently recline and get a nice good fit.
-Eventually becomes a no back booster.  The back of the Oobr can be easily removed for when your child has outgrown the high back portion
-Like its convertible counterpart the Oobr is SUPER thin so it's perfect for those 3 across situations or if your needing a slimmer seating option
-IT COMES IN TOKIDOKI!!!!!!!!!!!!!!!!!
-Made entirely in North America
Cons:
-Heavy…for being a booster the Oobr is a VERY heavy seat.  Heavier in fact then even some convertibles
-It doesn't have the deepest seating depth, so for those kids with legs for days this probably isn't going to be the best option
-Only the seating portion of the fabric can be removed, so if your looking for something entirely washable this seat isn't for you
-Very pricey, for many people the Oobr just isn't going to be in your price range
#2 Graco Affix
Pros:
-The new Graco Affix is basically the Graco Turbo Booster to the extreme.  For all intents and purposes they are exactly the same seat with a few little changes which I will now outline
-The new Affix is latchable in your car.  No more having to secure your booster with the seatbelt when it's unoccupied, no more griping at your kids to make sure they secure it if they aren't in it…no more of any of that because you can latch this seat in
-Nifty storage drawer thing that pops out of the side, for snacks, toys, sunglasses…any number of things
-Comes in a WIDE variety of colors and patterns to match every kiddo's sense of style…including ORANGE!!!!!!
-The bottom doesn't come off when its lifted! In the turbo booster model simply picking up the booster would cause the bottom to just fall off which is supremely annoying when you are just trying to move the booster to another seating position.
-Eventually turns into a no back booster for those big kids
Cons:
-has some fit issues in certain vehicles, like for example it doesn't fit well in the small center positions that you find in most mini vans
-Not the tallest High Back available, so if you've got some future Basketball players on your hands, you might want to consider a taller option
-The latch connectors don't keep the seat snug against the vehicle seat.  This isn't a safety issue in anyway, but it does annoy some people.
#3 Kiddy Cruiserfix Pro
Pros:
I am going to preface this by saying I am DESPERATE for one of these seats, so if it comes off as a bit biased…that's because it IS 😉 I LOVE LOVE LOVE this BADASS booster
-Adjustable in both height/shoulder width and leg depth…the only booster on the market that adjusts to fit kids in multiple ways.
-Kiddy Shock Absorber "crumple zone" technology in lap belt area…the only booster I am aware of that has any sort of technology like this
-COMES IN ORANGE!
-The design of the head wings and side wings promote alignment of head, neck & torso during a side-impact crash
-Several different types of thick energy absorbing foam
-Kiddy offers a crash replacement program for if you and your seat were involved in an accident that exceeded 10 mph
-It looks like a carseat from the future
-It's awesome 😛
Cons:
-Kiddy requires the booster to be flush against the vehicle seat, for those with fixed headrests that angle out, the Kiddy will be unusable in your car
-Very wide, not good for people who need to fit 3 across
-Made in China
-Heavy and somewhat bulky
#4 Britax Parkway SGL
Pros:
-Safe Cell technology to reduce head excursion (head being thrown forward past the child restraint)
-Britax does not allow use of this seat for kids under 40 lbs AT ALL regardless of age or height…which I think is fantastic
-SecureGuard crotch strap which helps prevent the belt from sitting on their abdomen which can cause internal injuries or what is also known as submarining.  This is especially important for children under 6 who are using a booster because in adults and older children, the seat belt sits on the illiac crest. It's what keeps the belt out of the soft tissue of the abdomen. In younger children, the crest doesn't finish developing until age 5-6. It's a lot flatter. Before this age, kids in boosters tend to submarine in a crash or end up with seatbelt syndrome, because the belt is not hooking onto the flare of the illiac crest.
-Turns into a no back booster
– Deep side and head wings to provide a comfortable fit, even for those older big kids
-2 cup holders that can be pushed back into the seat when not in use
-Tons of great cover options for every childs tastes
Cons:
-Latch release button can be a bit tricky at time
– Made in China
-On the high end as far as cost
Honestly there are very few cons that I can come up with, with this seat.  I am sitting here trying to think of more so it sounds more fair but this is about it.  It's a pretty great booster all around
#5 Diono Monterey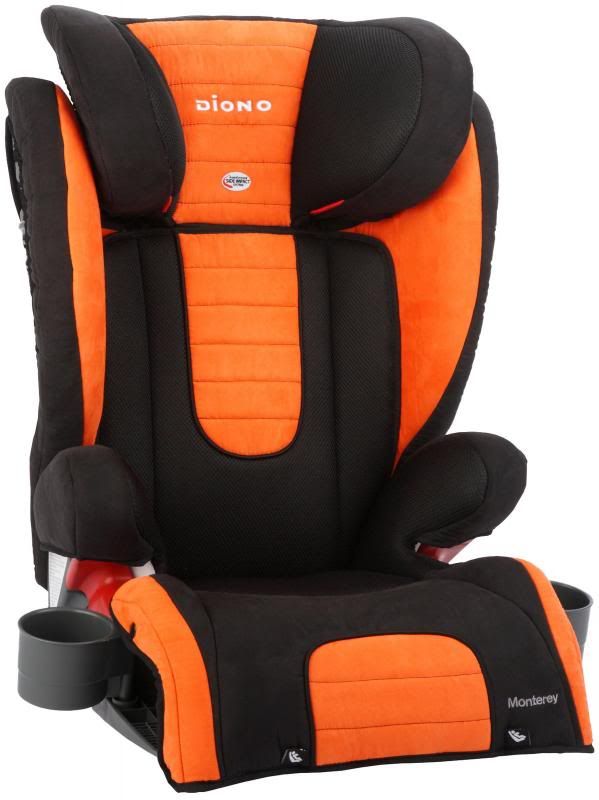 Pros:
-JUST LOOK AT IT!!!!! The most perfect orange ever <3
-Angled, reinforced bottom that prevents submarining
-2 position recline for a better fit in a wide range of vehicles
-Adjustable height and shoulder width so it will fit a wide variety of kid body types
– Low profile seat which makes it easier for kids to climb in and to buckle themselves up without any parental help
-Longer seat bottom to accommodate those older and or more long legged children comfortably
-Turns into a no back booster
Cons:
-MUST be used in a seating position that has adjustable vehicle head support (head rests)…if you have fixed headrests, this seat is not for you
-The seatbelt can tend to get caught in the belt guide.  This really only seems to be an issue when buckling up, and not a safety issue itself when the seat is in use
-It has hook latch connectors.  I know I'm being pickey, but I freaking HATE the hook latch connectors, especially if you have a car where the latch anchors are DEEP in that sucker.  It's such a pain to get them unhooked, and with the price of the seat I would expect some premium latch connectors on this baby.
I would like to add that although I didn't mention it in all the Pro's the reason I picked all of these seats (in addition to all the other great features) is because they are all latchable.  If a booster seat is not latched in to a car, then it needs to be secured with the seatbelt when not in use.  This is VERY important, because in the event of an accident that unrestrained booster seats becomes a giant flying projectile.
and as promised the Pièce de résistance….a couple awesome travel and big kid/adult options
Safety 1st Incognito
What else can I say about this thing…but AWESOME!!!!!!!! Way to go Safety 1st for making this RAD Kid positioning seat.  For those with older kids who just don't quite fit into vehicle seat belts yet, but either don't fit or won't sit in a booster seat, this seat is for you.  Not to mention, if your one of those short people like me (and are 120 lbs or under), you too can use this seat to get a proper seat belt fit.  Being able to use this myself is my motivation for losing 40 lbs so I will be within the weight limits.  You also can't really tell when it's in the vehicle, it comes in the most popular vehicle seat colors so it blends right in and it's virtually invisible.  Kid worried about being embarrassed?  Their friends probably wont even SEE it.
Bubble Bum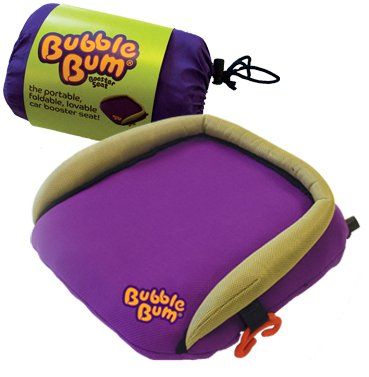 I have had so many people ask me this question "Is this real? and is it even safe?" The answer to both those questions is YES and it's AWESOME!  This inflatable (yes like a balloon) no back booster is pretty freaking rad.  It deflates and can be rolled up into a little bag which can fit in your purse, diaper bag, carry on or even a backpack.  It inflates in a snap and is a really great option for kids who might be getting picked up by grandma after school or going home with friends where they might need a booster in the car, but obviously don't want to drag a conventional booster to school with them.  The only real downside is that it is kind of narrow…so if you've got some hipey kids, this probably wont work well.
T-T-F-N!
If your interested in what infant, extended rearfacing and extended harnessing combination seats made my list you can check those out here:
http://themommydialogues.com/squishys-top-picks-infant-seats/
http://themommydialogues.com/squishys-top-picks-extended-rearfacing-convertible-seats/
http://themommydialogues.com/squishys-top-picks-extended-harness-combination-seats/
Tags :
Alyssa
,
booster
,
booster seats
,
britax
,
britax parkway
,
britax parkway sgl
,
bubble bum
,
car seat
,
car seats
,
carseat
,
carseats
,
Clek
,
Clek Oobr
,
diono
,
diono monterey
,
Featured
,
graco
,
graco affix
,
high back booster
,
high back booster seats
,
kiddy
,
kiddy cruiserfix pro
,
Safety 1st
,
safety 1st incognito
,
squishy's top picks