While out to dinner one night, Mr. Squish got a side of "sweet potato" casserole with his dinner and it had pineapple in it.  It sounded slightly strange to me, and I couldn't picture how sweet potato and pineapple could go together.  After I tried it, I couldnt imagine NOT having pineapple in my sweet potatoes.  SquishyKid #1 is the anti-potato king, so I am forever trying to find potatoes he likes.  This…..is one of his favorites.  He requests this dish about once a week and gobbles it right down.  It is sooooooooooo delicious.  The restaurants version had marshmallows on top, which I find quite disgusting after a traumatizing chubby bunny incident when I was 6, so I use glazed nuts. This makes an excellent replacement for those marshmallow covered yams that are often served on Thanksgiving.
What you'll need….sweet potatoes, butter, brown sugar, milk, glazed nuts, salt, pepper and 1 fresh pineapple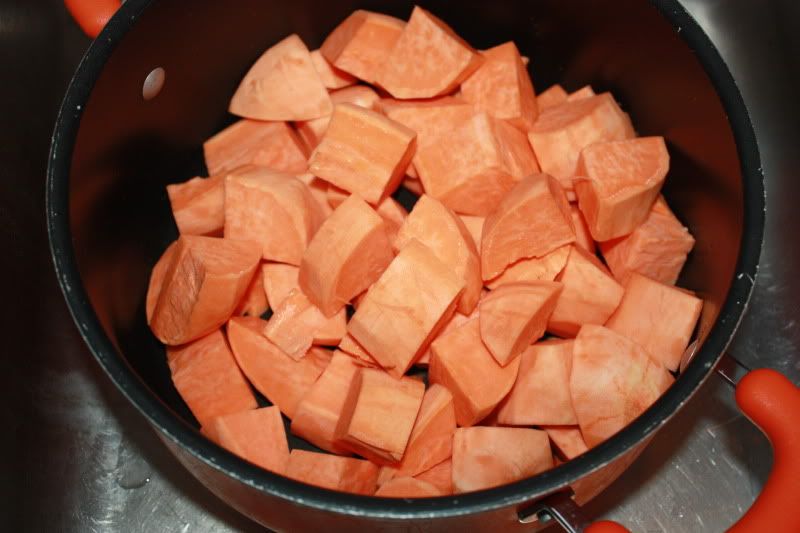 Peel and cube 3 large sweet potatoes and put them into a large pot and preheat your oven to 350 degrees
Fill the pot with water
and put on the stove to boil, until the potatoes are fork tender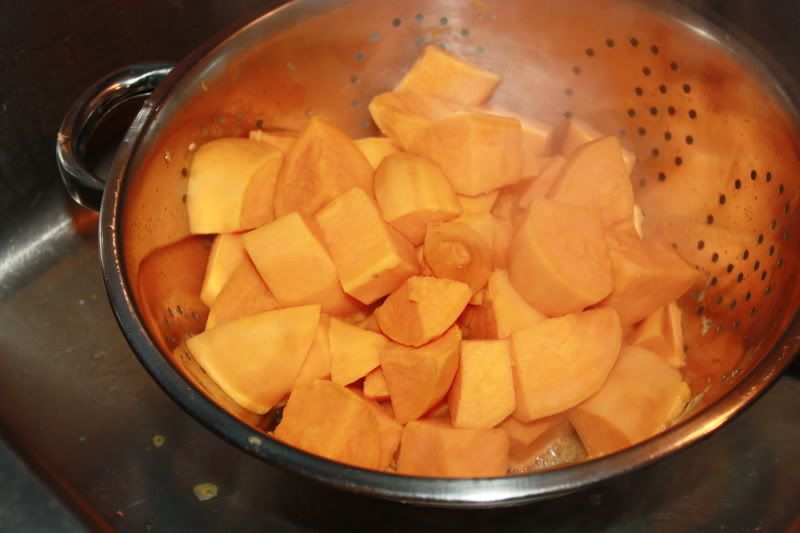 Drain the potatoes after they are done
and dump the drained potatoes back into the pot
Add in 1 stick of butter (salted) and give it a quick mash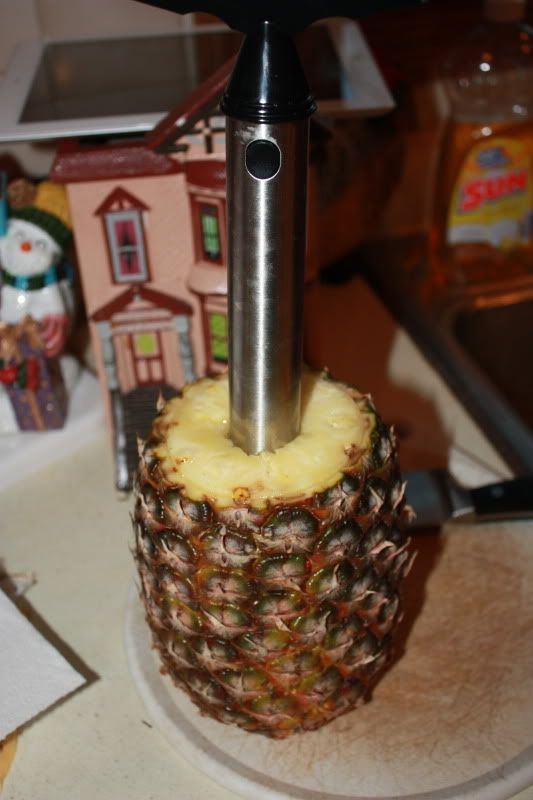 Cut up your pineapple however you do that.  I have this nifty little gadget that my mother in law got me from QVC.  You cut of the top of the pineapple and screw this gadget into the top and all the way down and it cuts the pineapple for you!  I love this thing!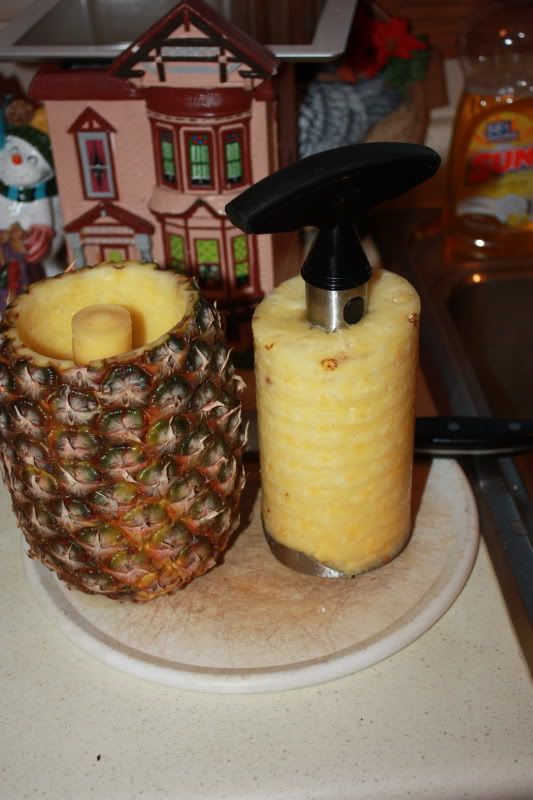 You just lift it out once your at the bottom and you have perfect pineapple rings…..it's SUPER easy to do
Leaves the core behind….isnt that freaking awesome?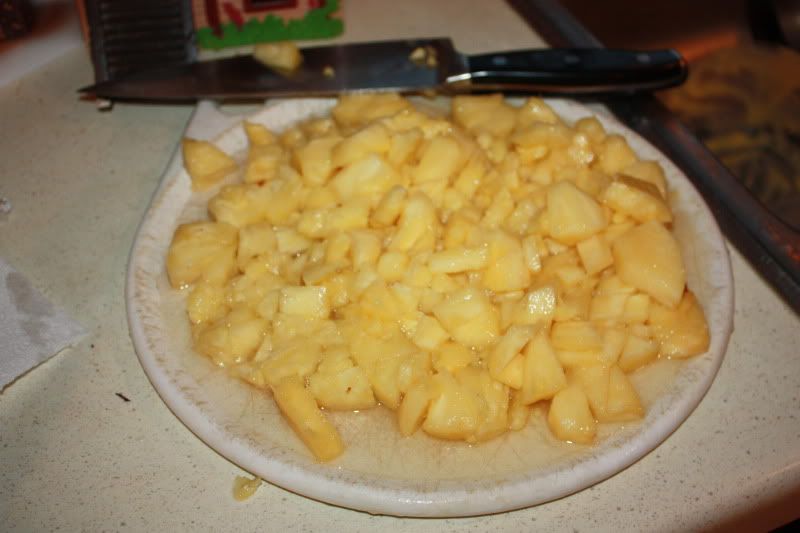 So anyways after you get your pineapple out….chop the ENTIRE thing up
and dump all of it (even the juice) into the sweet potatoes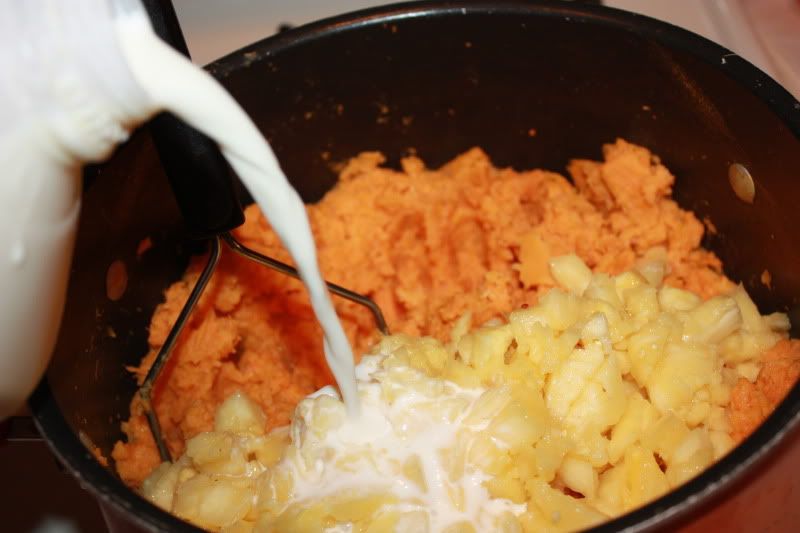 Couple tablespoons of milk
3/4 cup of brown sugar (or more if you want them sweeter)…salt and pepper to taste
and mix it all together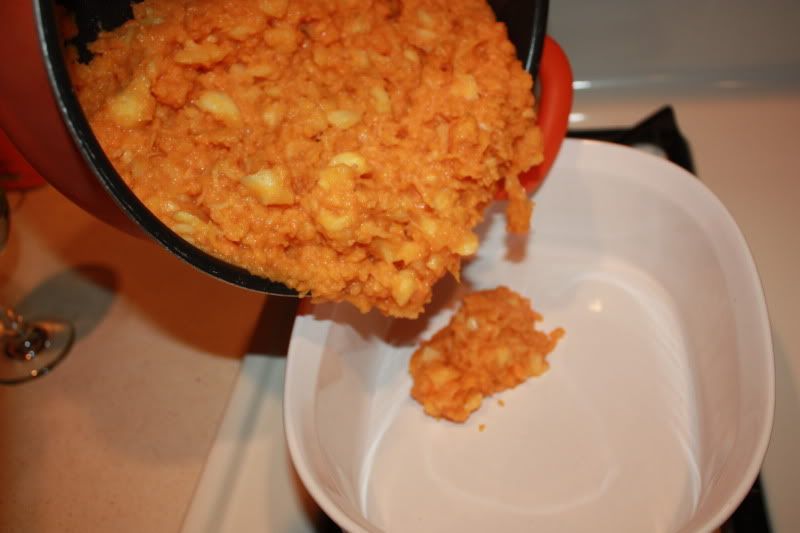 Dump the entire contents into a casserole dish
and cover the top with your glazed nuts
Stick in your already preheated 350 degree oven for 30 minutes
Remove, serve and enjoy! Yummy.