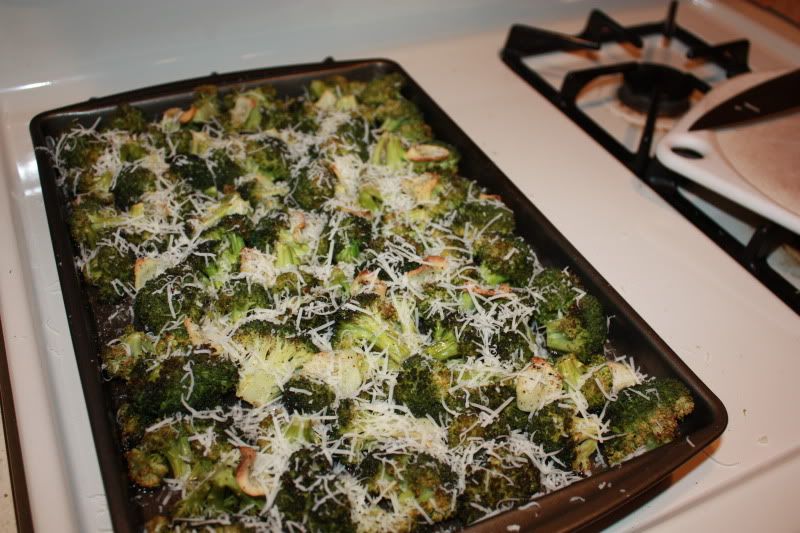 We are big veggie eaters in this house, and I am forever trying out new and different ways to prepare them to give us variety.  We dont usually have trouble getting the kids to get veggies…but this broccoli in particular is a HUGE hit in our house.  The roasted broccoli takes on this sweet nutty flavor and the lemon juice and cheese give it a nice tangy zip.  Perfect for pairing with anything.  It makes a great edition to any meal.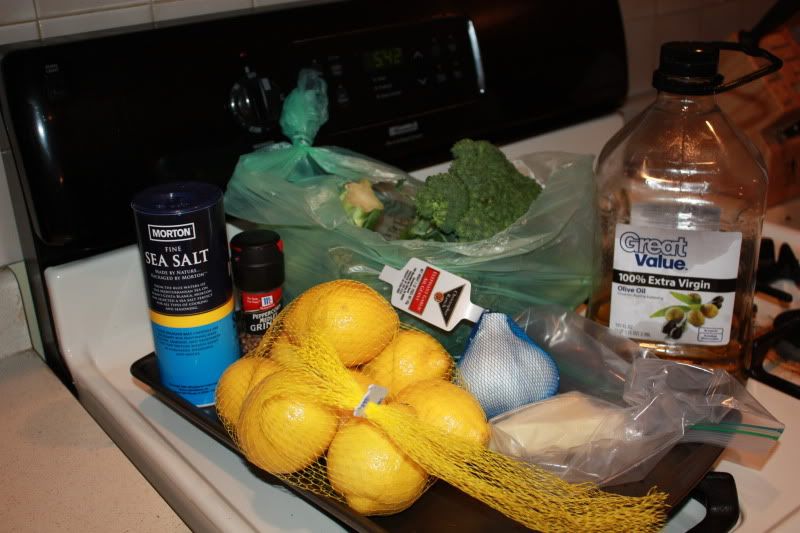 What you'll need for this fabulous broccoli…..lemons, 4 lbs (at least) of broccoli, garlic, salt, pepper, olive oil, LARGE shallow cookie sheet and Parmesan cheese (this is actually Romano cheese which works just as well….it's just what i had in the fridge)
Start of by coating your cookie sheet entirely in olive oil (I like to pour a generous amount and then tip the pan around to coat the entire thing).  It serves 2 purposes….It gives the broccoli a wonderful flavor and also keeps the cheese and broccoli from sticking to your cookie sheet for easy clean up!  Also preheat your over to 425 degrees.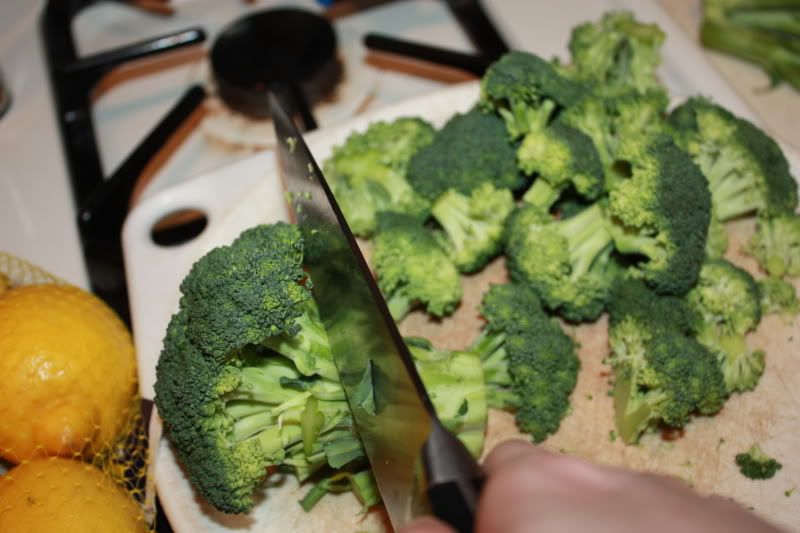 Cut off the tops of all the broccoli…making sure that any large pieces,  you cut in half or quarters.  If your pieces of broccoli are to big they wont cook properly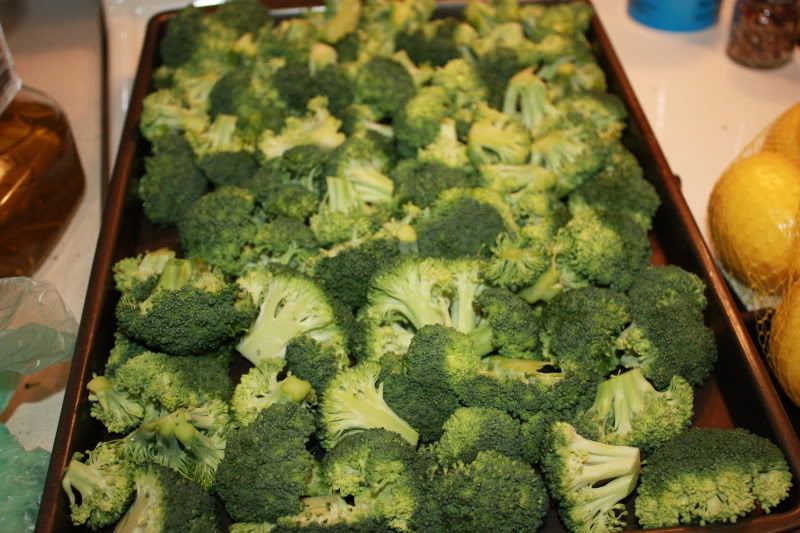 Put all the broccoli in 1 layer onto your previously oiled cookie sheet.  If you are making more then your pan allows….use an extra pan. It is imperative that the broccoli only be in 1 layer.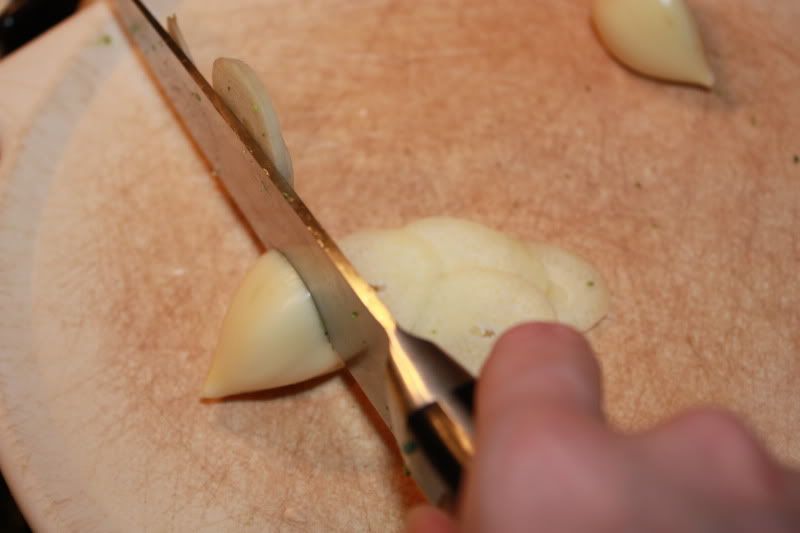 Slice up your garlic in very thin slices. I use elephant garlic, but regular garlic works just fine
Lay the slices of garlic on top of the broccoli on the pan….they will crisp up and become delicious little morsels.  I love just eating the roasted garlic straight from the pan.
Generously drizzle olive oil over the broccoli and garlic….dont be afraid of the oil
Give the whole thing a good salt and peppering and pop into your (hopefully already preheated over) for 25 minutes or until the tips of the broccoli are brown and crispy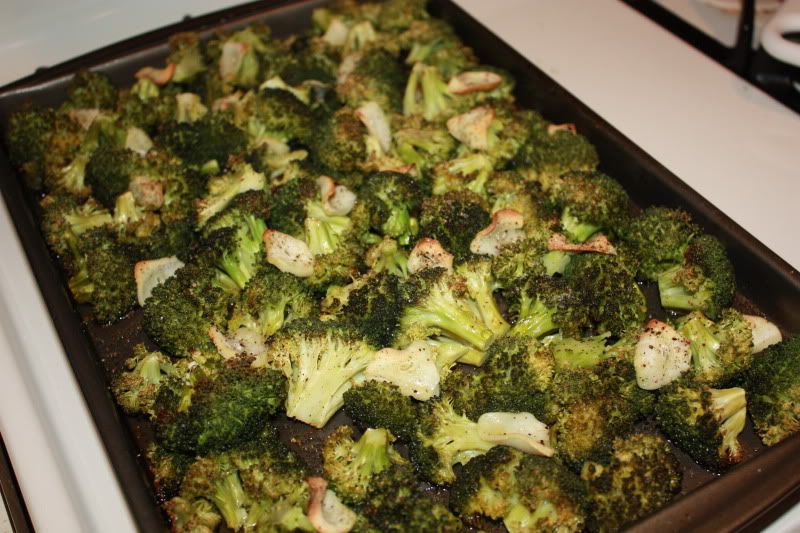 Doesnt this look delicious?  You can eat it just like this if you prefer….it is still yummy.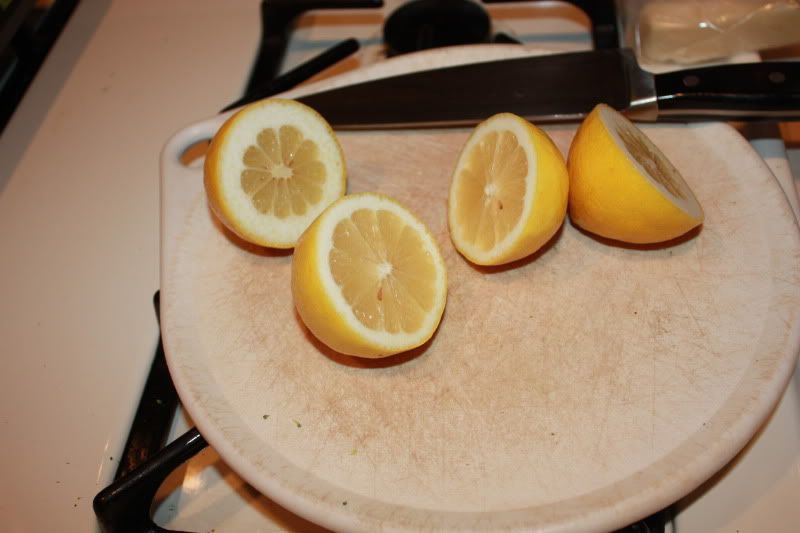 To continue on with my recipe….we like A LOT of lemon so we use 2 whole lemons.  If your a lemon fan i recommend using 2.  If your not much of a lemon fan 1 lemon is just fine.
Squeeze your lemon(s) all over the broccoli…making sure you get it over the entire thing.  Grate as mush cheese as you desire on the top….serve immediately and enjoy!  It's ridiculously good.